The 1970s was a Golden Age for R&B music especially for black female singers.
It was the post-Civil Rights era, and everybody felt the spirit of experimentation and individuality. New artists were constantly emerging on the horizon and female groups were right in step with the liberated times.
They'd fallen off the tree branched out by The Marvelettes, Martha and the Vandellas and the Supremes.   One of the dominant groups of the 70s was the legendary Supremes; the revamped version of the black female singers, after Diana Ross departed to go solo.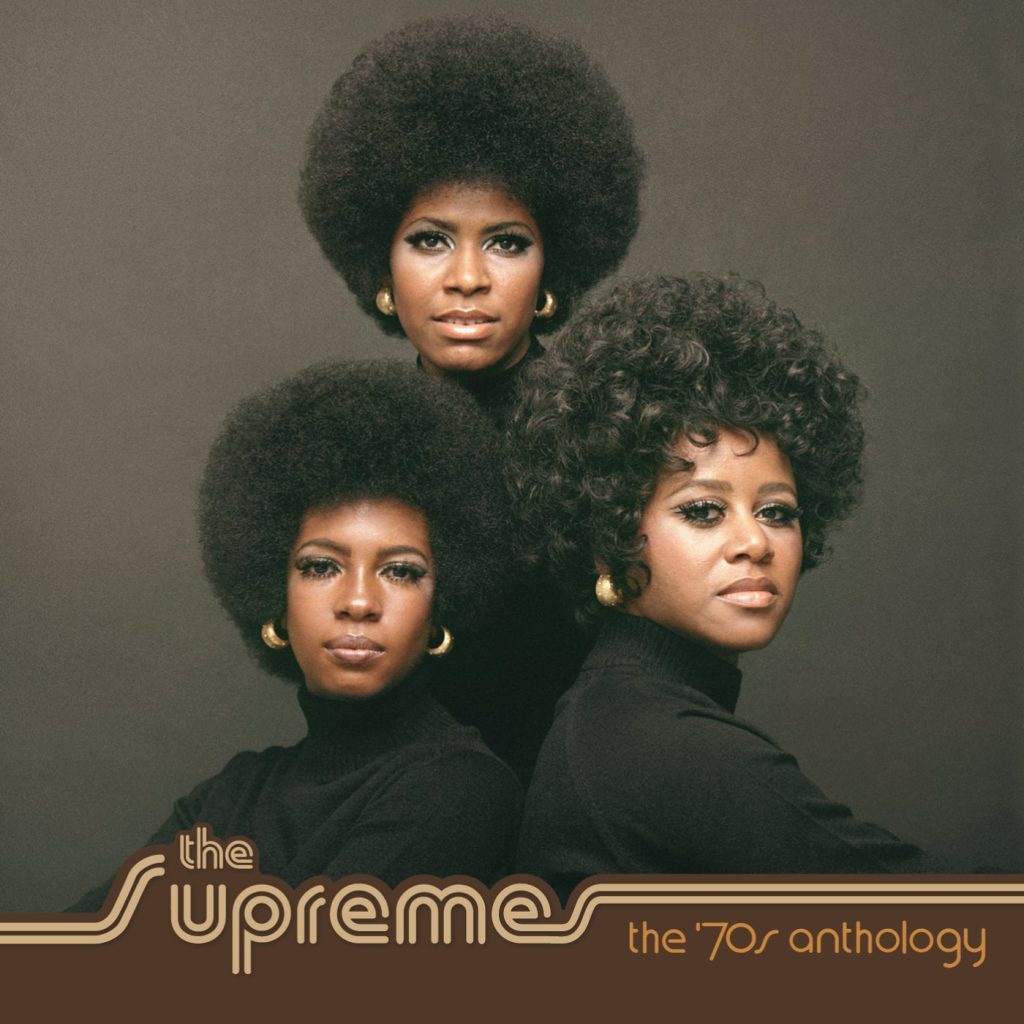 1. THE SUPREMES
Diana Ross gave her final performance as a Supreme on January 14, 1970 at the Frontier Hotel in Las Vegas. Her replacement, 24-year-old, Jean Terrell was introduced that night and Diana Ross & the Supremes ceased to exist. The Supremes or New Supremes as some called them, were born. However, Motown's Berry Gordy didn't care for Terrell's performance that night and had every intention of replacing her with Syretta Wright. Original Supreme member, Mary Wilson (Cindy Birdsong was the third in the current trio) refused and Gordy washed his hands of the group. Didn't matter.
Under Terrell they had the hits "Up the Ladder to the Roof", "Stoned Love", and "Nathan Jones".  In 1972 they scored another smash hit, "Floy Joy", written and produced by Smokey Robinson, as well as "Automatic Sunshine"," their last UK hit under Terrell.  She left in 1973 and was replaced by Scherrie Payne (sister of Freda). 
During the Payne regime, the Supremes had the 1975 disco hit, "He's My Man".   In 1976, a discontented Birdsong left and was replaced by Susaye Greene.   That version of the Supremes released two albums and spawned the hit single, "I'm Gonna Let My Heart Do the Walking".   The Supremes formally disbanded on June 12, 1977 following their last concert at the Drury Lane Theater in London.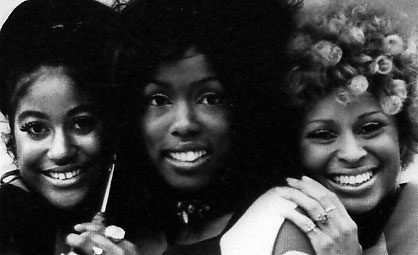 2. HONEY CONE
Experience counts and the trio known as Honey Cone were well seasoned when the limelight shined on these black female singers.  Separately they'd been singing since they were children and had worked as background singers and recording session vocalists.  Edna Wright, Carolyn Willis and Shelly Clark became Honey Cone in 1968 when they debuted as a group on the Andy Williams Show, replacing Wright's sister, famed singer, Darlene Love.  They got seen and signed to Hot Wax Records by Eddie Holland, soon after he left Motown.        
The group hit their stride in 1971 with the back-to-back hits "Want Ads" and "Stick Up".  That same year they headlined their own tour and were voted Best Female Vocal group by the National Association of Television and Radio Announcers.  In 1972 they followed things up with other hits – "One Monkey Don't Stop No Show" and "The Day I Found Myself". 
However, things began to fizzle in '73.    Hot Wax ran into financial difficulties, then Willis left the group because of creative differences on the material.  Replacing the chemistry proved to be futile so the group broke up.   Wright died on September 12, 2020.   The remaining members continue singing background and recording session work.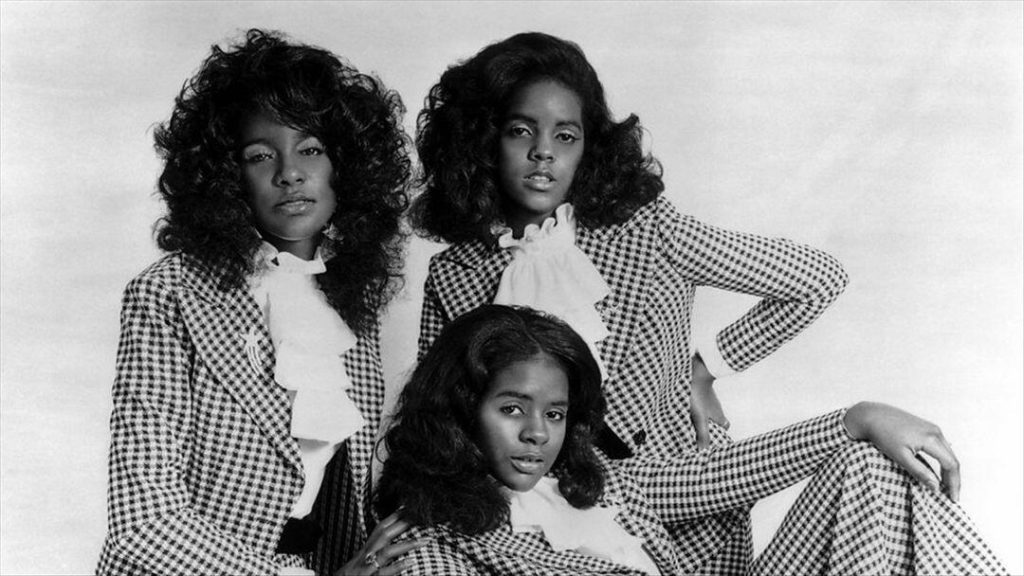 3. THE JONES GIRLS
The Jones Girls were the Jones sisters.   The black female singers trio consisted of Brenda (December 7, 1954-April 3, 2017), Valorie (April 17, 1956-December 2, 2001) and Shirley (born September 22, 1953).  
They earned a solid reputation as reliable backup singers, working with Lou Rawls, Aretha Franklin, Teddy Pendergrass, Diana Ross, Linda Clifford and Tower of Power.   Their big break came in 1979 with their Top 40 hit, "You're Gonna Make Me Love Somebody Else".  It went Gold. Their next charted hits were 1980's, "I Just Love the Man" and the Dexter Wansel composed, "Nights Over Egypt" in 1981.      
After their 4th album failed, Shirley left the group and had the number 1 R&B hit, "Do You Get Enough Love" from her 1986 album, Always in the Mood.   She later collaborated with Jean Carne and Cherelle for the 2007, Ladies Night Out and Shirley continues touring as the Jones Girls with two of her nieces and a nephew as replacements. 
Valorie died on December 2, 2001 at the age of 45 and Brenda was hit by several cars and killed while crossing the street on April 3, 2017 in Wilmington, Delaware.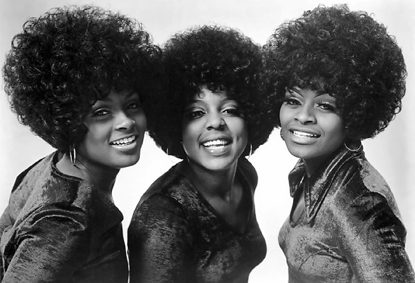 4. LOVE UNLIMITED
Love Unlimited became synonymous with Barry White and for good reason.   The female trio not only provided background vocals on White's albums and concert tours, their lead singer, Glodean James married White. 
The black female singers from the group formed in 1969, Glodean, her sister Linda James and their cousin Diane Taylor went from behind White to recording their own material.   They were so good at it that they became the first female singing group to reach number five on the charts since Diana Ross & the Supremes in 1970.       
Love Unlimited had their first hit with 1972's, "Walking in the Rain with the One I Love". It was huge in the US and United Kingdom and was certified Gold. In 1975 they released the number 1 hit, "I Belong to You". Love Unlimited poured out more chart makers until 1985, when Diane Taylor died of cancer on November 29th at the age of 38. Unfortunately, the Love Unlimited musical library was destroyed in the famed 2008 Universal fire.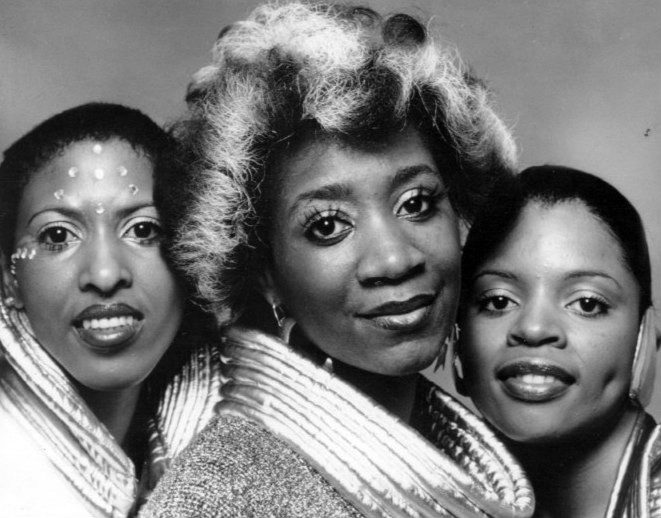 5. LABELLE
In th late 60's there was a battle between two girl groups. One from Trenton. The other from Philadelphia. The battle ended in the dismantling of both the Ordettes and the Del-Capris.   The emerging group was the Bluebelles, the black female singers consisted of Patti LaBelle, Sarah Dash, Nona Hendryx and Cindy Birdsong.  They found moderate doo-wop success, but when Birdsong left the group to join The Supremes, the Bluebelles went in another direction and re-emerged in 1971 as LaBelle.  
This version was hard hitting, funky, glam rock in look and musical substance. They were in-your-face with their smash hit "Lady Marmalade"; an omnipresent ode to prostitution and drove their LP Nightbirds to Gold status.
They were the first Black group to appear on the cover of Rolling Stone magazine and the first to perform at the Metropolitan Opera House. At the end of 1976 they each went their own way and found individual success. Nona Hendryx became an icon of the avant garde. Sarah Dash became an in-demand studio session singer and Patti LaBelle went onto to an endless Grammy Award winning solo career.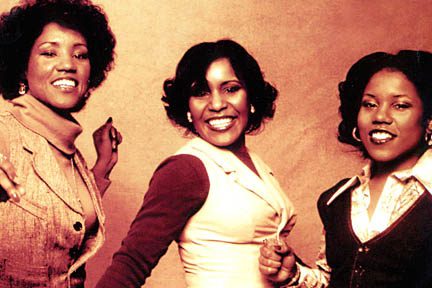 6. THE EMOTIONS, Black Female Singers
This Chicago, Illinois trio began as the Huthinson Sunbeams and their roots was gospel music. The future multiple Grammy Award winners consisted of Sheila, Wanda and Jeanette Hutchinson.
As youths they had a solid gospel reputation and even performed in concert with Mahalia Jackson, but they also garnered a local secular following in Chicago.  
They went R&B in the late 60s and signed with Volt Records (a Stax Records imprint) under the direction of Isaac Hayes.  They released a couple of albums through Stax Records, but their third effort was shelved and when Stax folded the newly named Emotions got together with super producer and Earth, Eind & Fire founder, Maurice White and they never looked back.
Their first in a string of R&B hits was "I Don't Want to Lose Your Love" from their album Flowers, which went Gold for Columbia Records.  Their next LP was Rejoice in 1977 (younger sister Pamela joined the group for this outing) and it went Platinum, with the singles "Don't Ask My Neighbors" and "Best of My Love", which went Platinum. 
Their next album was 1978's Sunbeam.  It went Gold.   Overall, The Emotions remained busy since the 70's either touring or appearing on other artists projects and pulling in prestigious awards along the way.   Pamela Hutchinson died at the age of 61 on September 18, 2020.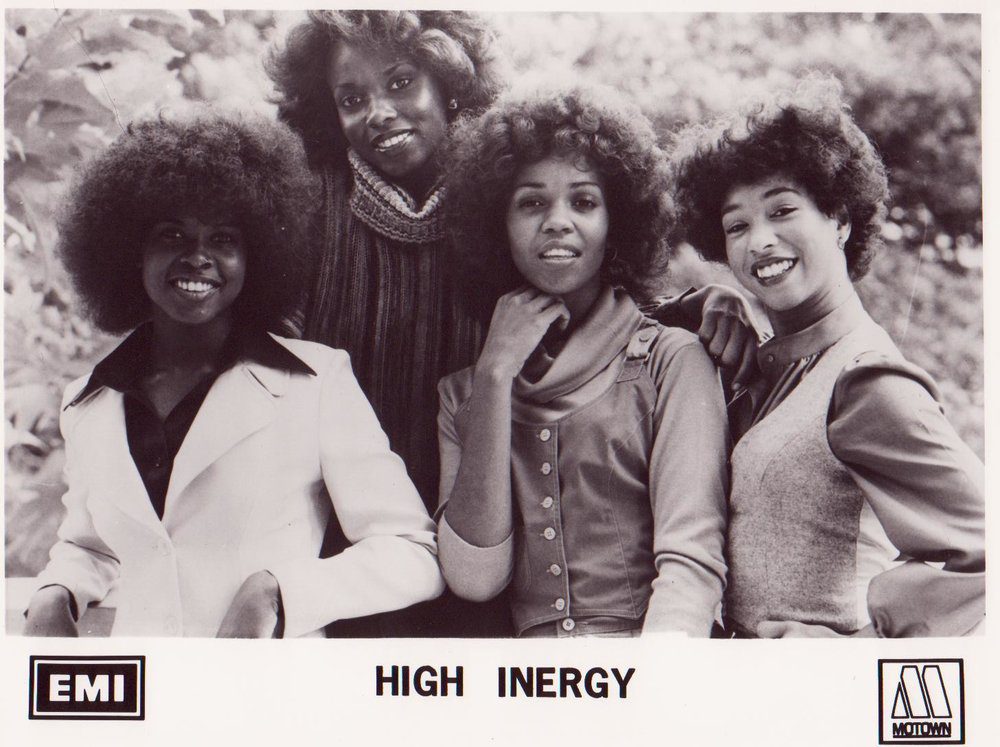 7. HIGH INERGY
1976 was the Nation's Bicentennial and the national inauguration of High Inergy.   They were discovered in Pasadena, California at a huge celebration by Gwen Gordy Fuqua. 
Next thing, the singing Mitchell sisters (Vernessa and Barbara) along with their dancers / singers, Linda Howard and Michelle Martin (aka Rumph) signed with Motown's Gordy subsidiary in '77.  This led to the chart-topping hit, "You Can't Turn Me Off (in the Middle of Turning Me On).   The quartet became a trio when Vernessa left to pursue a gospel singing career and Barbara replaced her as lead singer.
All told the black female singers in this group scored 9 top hits before disbanding in 1984 for solo pursuits.   On December 9, 2012, Linda Howard died.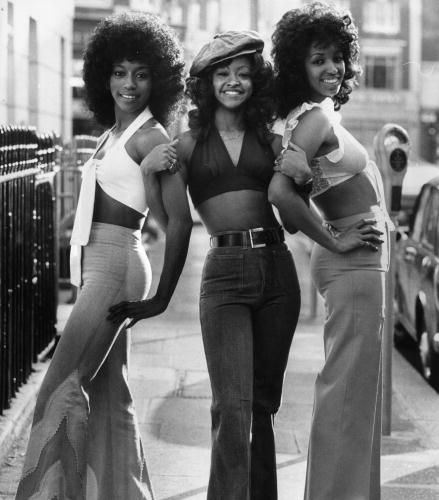 8. THE THREE DEGREES
This trio was formed in 1963, has rotated through 15 different members and is still performing.   Originating in Philadelphia, Pennsylvania, The Three Degrees was founded by member Fayette Pinkney in the last year of high school.  
The other original members were Pinkney, Shirley Porter and Linda Turner.   From there the musical chairs moved about until the combination of Pinkney, Valerie Holiday and Sheila Ferguson literally struck gold in 1974 with the International smash hit, "When Will I See You Again".   It topped th charts in 7 countries.          
The Three Degrees did fine in the United States, but their bread and butter were in the UK and the Far East.   Their overseas popularity far surpassed their US fame and their records stayed consistently on the charts throughout all the various incarnations of the line-up. 
These black female singers went from working with Gamble and Huff at Philadelphia International to CBS Records to Ariola Records without missing a beat and they still perform today with the roster of Helen Scott, Valerie Holiday and Freddie Pool.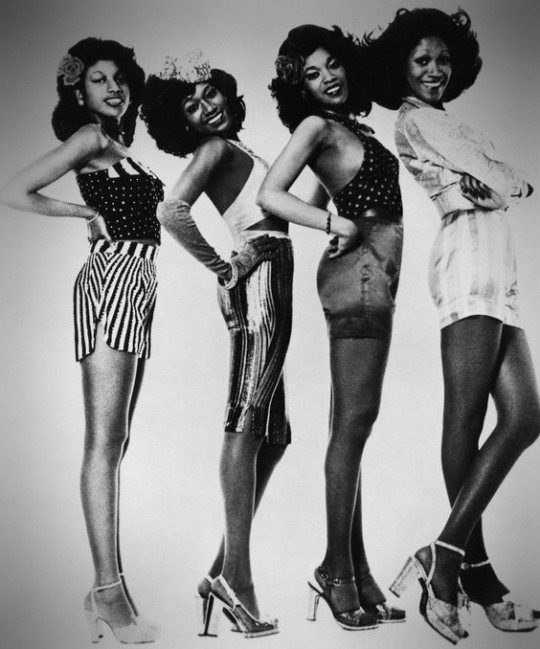 9. THE POINTER SISTERS
These triple Grammy Award winners hail from Oakland, California and had 13 top 20 hits between 1973-1985. Their first Grammy coming in 1975 for, "Fairytale" – Best Country Vocal Performance. These black female singers cross genre boundaries during their tenure.
They have a star on the Hollywood Walk of Fame and appeared alongside comedy legend Richard Pryor in the hit film classic Car Wash. It all started in 1969 when Bonnie and June Pointer began performing at local night spots under the name, Pointers, a Pair. Not long after sister, Anita joined them, and the trio got a record deal with Atlantic. That amounted to a whole lot of nothing.
In 1972 sister, Ruth got into the mix and they were signed to Blue Thumb Records. Their other 2 Grammys came for "Jump (For My Love") and "Automatic". Other seminal hits include, "Fire", "He's So Shy", "Slow Hand", "I'm So Excited", and "The Neutron Dance". In 1978 Bonnie left the group and went solo. The Pointer Sisters still perform to this day and in 2016 Billboard Magazine ranked them as the 32nd most successful Hot 100 Women Artists of All-Time.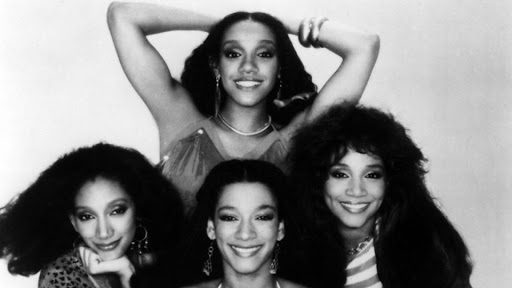 10. SISTER SLEDGE
Debbie, Joni, Kim and Kathy Sledge formed the powerhouse singing group, Sister Sledge in 1971. The Philadelphia, Pennsylvania famous black female singers were natives signed with local label Money Back Records and had a moderate hit in the UK, but in 1974 they released "Love Don't Go Through No Changes with Me" and it gave them stardom in Japan.  
They were flown out for an overseas tour and wound up performing with James Brown in the Rumble in the Jungle, the Muhammad Ali v George Foreman fight in Zaire.   
The group was moving but going nowhere.   Then in walked Niles Rodgers and Bernard Edwards of Chic as producers in an effort to salvage Atlantic's (their new label) investment.   Turned out to be the turning point.      
Their 1979 LP, "We Are Family" spawned the number one hit "He's the Greatest Dancer" and the smash hit "We Are Family".
That song became the anthem of the Pittsburgh Pirates and earned Sister Sledge a Grammy nomination. The album was certified Gold and established the quartet as disco stars. They've toured the world many times over; performed at Bill Clinton's Presidential Inauguration and are inspirations for female groups following in their footsteps. On March 10, 2017, Joni Sledge passed away at the age of 60, but Debbie, Kathy and Kim announced they would continue performing as Sister Sledge.