For male singers in groups seeking recognition for their individuality, the 1970s was the decade to flourish. Every act had its own distinct sound, and if they did not, the listening public was spared.
Originality ruled along with the melodic harmonies and gusto-filled vocal dexterity of Black male singers. Before swagger was ingrained in the lexicon, they oozed it. The moves, clothes, and mystic won over the targeted female fans but pulled everybody else into their net of timeless sounds as well. Let's start off with …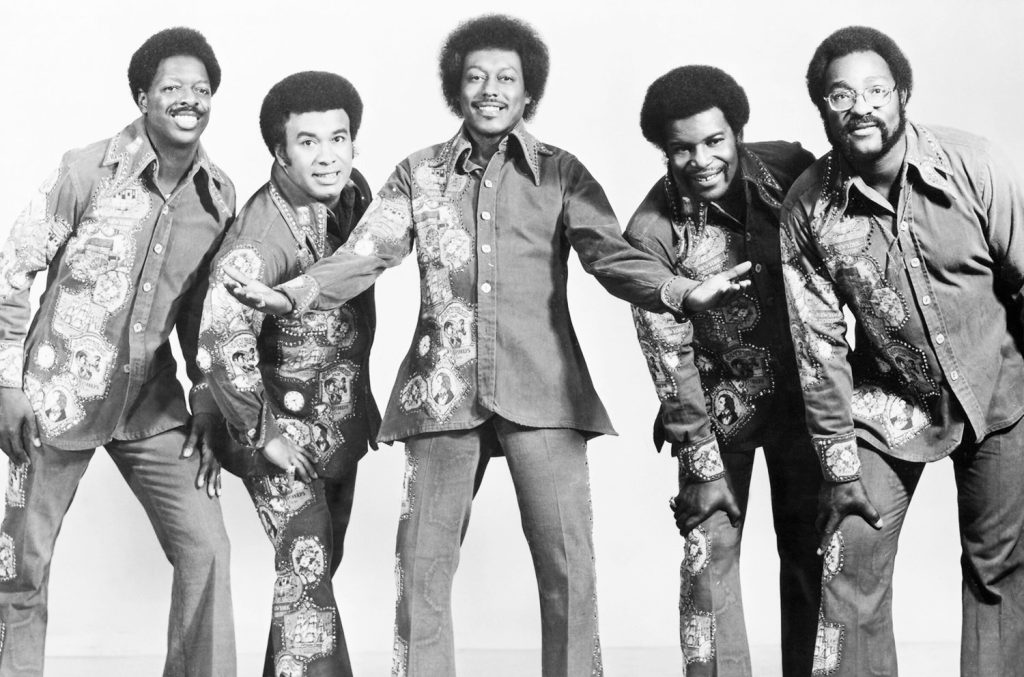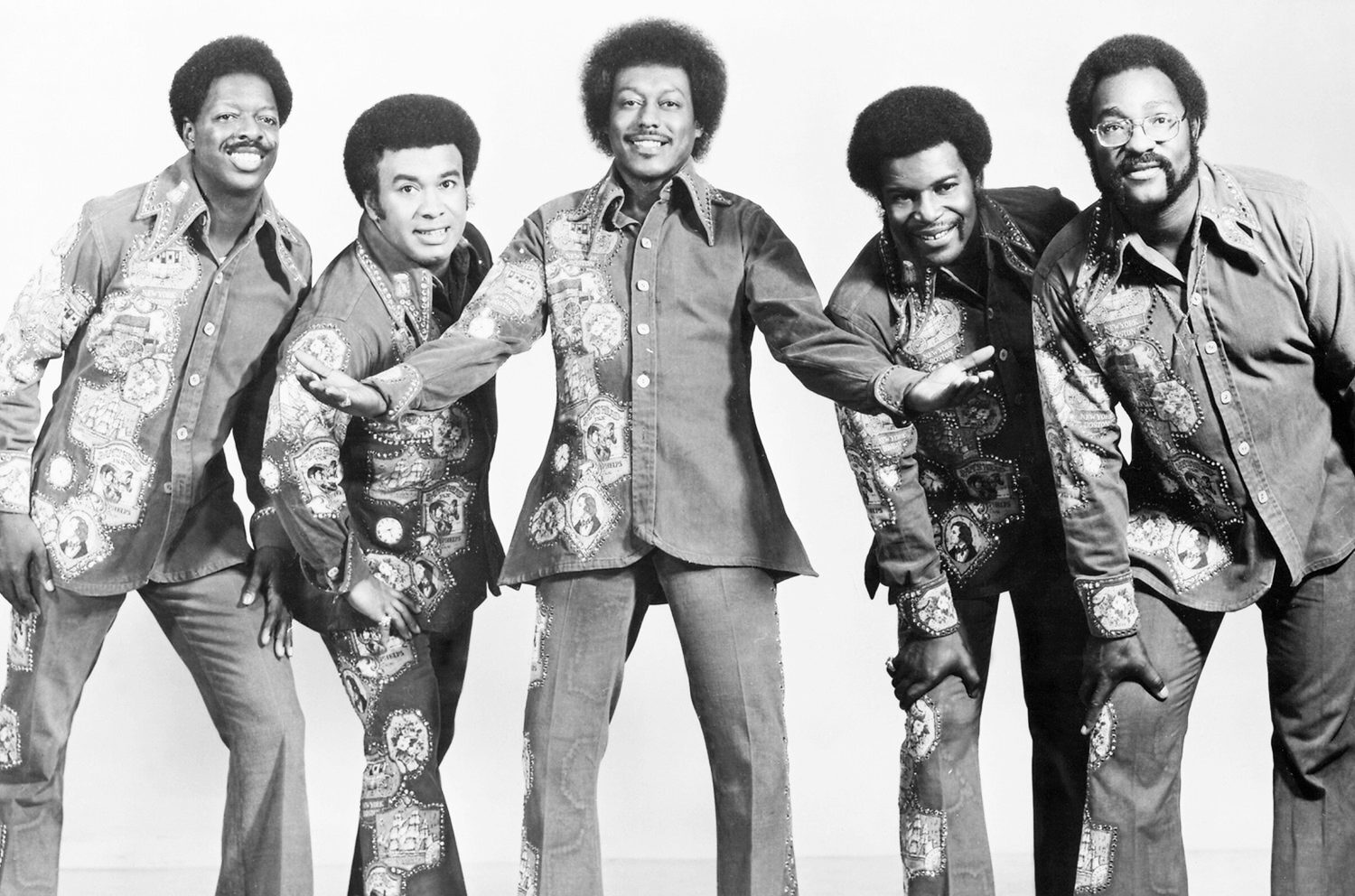 THE SPINNERS
These Ferndale, Michigan natives were known as the Detroit Spinners and the Motown Spinners, before chopping off the excess fat and being dubbed just The Spinners. At first none of their names meant much. The 5 housing project buddies, who played musical chairs with members, finally settled in on Billy Henderson, Henry Fambrough, Pervis Jackson, Bobby Smith and Chico Edwards. That was 1963. They released 1 single per year from '66-'69 – mediocre success as future successful male singers.
Their label Motown had them earning their keep as road managers, chauffeurs (for bigger groups, like the Temptations), chaperones and shipping clerks. Then in 1970 they made noise with "It's a Shame". It went to #14. G C Cameron the lead singer on that hit left and was replaced by Phillippe Wynne. The group then signed to Atlantic records and the hits kept coming:
"I'll Be Around", "Could It Be I'm Falling in Love", "Games People Play", "Rubberband Man", and the teaming with Dionne Warwick for "Then Came You". Wynne left the group in 1977 and died on stage of a heart attack shortly thereafter. After that it was mainly the oldie shows circuit.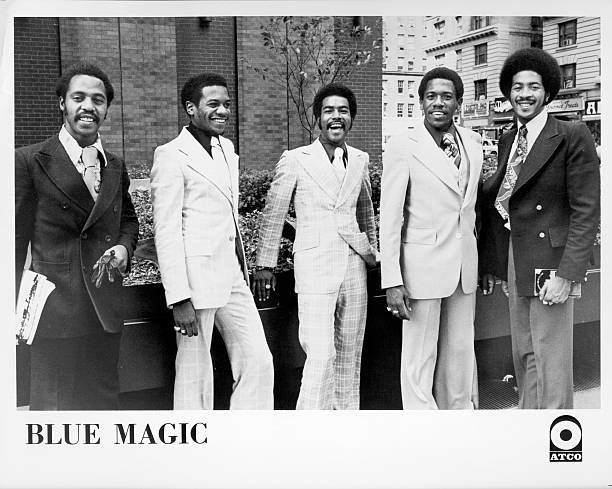 BLUE MAGIC
Thanks to the fragmentation of The Delfonics, Shades of Love and Toppick, the world received black male singers Blue Magic. Formed in 1972 in Philadelphia, their line-up was made up of Ted "Wizard" Mills (Lead tenor), (Baritone) Wendell & Vernon Sawyer (Tenor), Keith "Duke" Beaton (Tenor) and Richard Pratt (Bass).
MFSB was their studio house band and the '70's was good to Blue Magic. They had a string of Billboard charting hits: "Spell" went to #8, "Look Me Up" to #36 and "Stop to Start" made it to #14 on the Billboard chart. This was all in 1973. In 1974 they sold 1 million copies of the certified Gold hit "Sideshow" from the album Blue Magic.
That LP went Gold as well. In 1975 they scored a #36 hit, "3 Ring Circus". Then came 1977 and disco practically killed them. They were known as balladeers. So, by the '80s Pratt left, then Vernon & Wendell. Mills and Beaton got replacements and continued the tradition. Currently there are two versions of Blue Magic touring.

THE DELFONICS
Philadelphia record producer, Thom Bell had another hit singing group on his hands when he got ahold of The Delfonics. William Hart and his brother Wilbert, along with Randy Cain were seasoned when they met Bell. By 1972 these male singers racked up 12 Top 20 hits on Billboard. "La La Means I Love You" went Gold. "Didn't I Blow Your Mind This Time", "Ready or Not Here I Come" and "Hey Love" were also era defining classics. Personnel changes abound.

Major Harris came and went then fronted his own version of the Delfonics while another was touring simultaneously. Minus Thom Bell (who left around the time of Harris' entrance) the group's fortunes declined quickly, but they still make an impression at the oldie shows.
THE CHI LITES
From 1969-1974, The Chi-Lites scotred 11 Top Ten R&B hits. They also had hits in Australia, the United Kingdom, Ireland and Canada. They were spawned from 4 high school friends from Chicago: Eugene Record, Marshall Thompson, Robert "Squirrel" Lester and Creadell Jones (Bass).
In 1968, the black male singers had the hit "Give it Away" on the Brunswick label. It was on Billboard as #10. Next was the million selling Gold record, "Have You Seen Her" and "Oh Girl" that went #1, sold a million and went gold. In 1973 the group shattered but kept touring. In 2004 Beyonce remade some of their hits. In 2005, Eugene Record died. Their material burned in the 2008 Universal Studio fire. Then in 2010 Lester died. 2021 is the year The Chi Lites are scheduled to be honored with stars on the Hollywood Walk of Fame.

TAVARES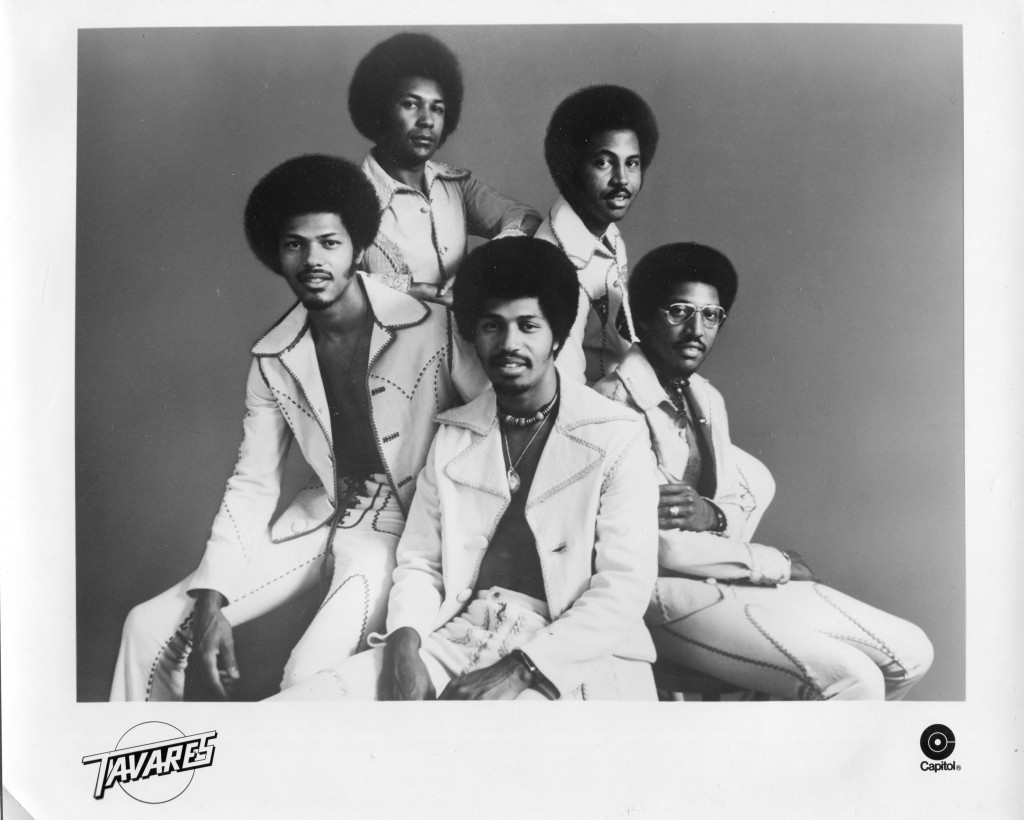 The 5 Tavares were black male singers and brothers who bounced back and forth from Providence, Rhode island to New Bedford, Massachusetts, but in 1959 they stayed still long enough to form the group, Tavares. The quintet of Cape Verdean descent, consisted of Ralph Edw. Vierra (12/10/41), Arthur Paul (11/12/42), Antone Lee (6/2/44), Feliciano Vierra Jr (5/18/48) and Perry Lee (10/23/49), were originally called Chubby and the Turnpikes, but that named changed in 1973, the year the hits began.
Their first one was "Check it Out", followed up by 1974's #1 R&B hit. "She's Gone". Then the Top 40 Pop album, In the City with the #1 smash single, "It Only Takes a Minute". In '76 it was "Heaven Must be Missing an Angel" and "Don't Take Away the Music" and 1977 gave us "Whodunit", but Tavares was being viewed now as a disco group.
They'd appeared on the Saturday Night Fever soundtrack and got pigeonholed. They also got their only Grammy for that LP. In 1980 the group signed with RCA, but it didn't stop sliding record sales and with health issues combined, the group dissolved In 2014 Tavares was inducted into the Rhode Island Music Hall of Fame.

THE STYLISTICS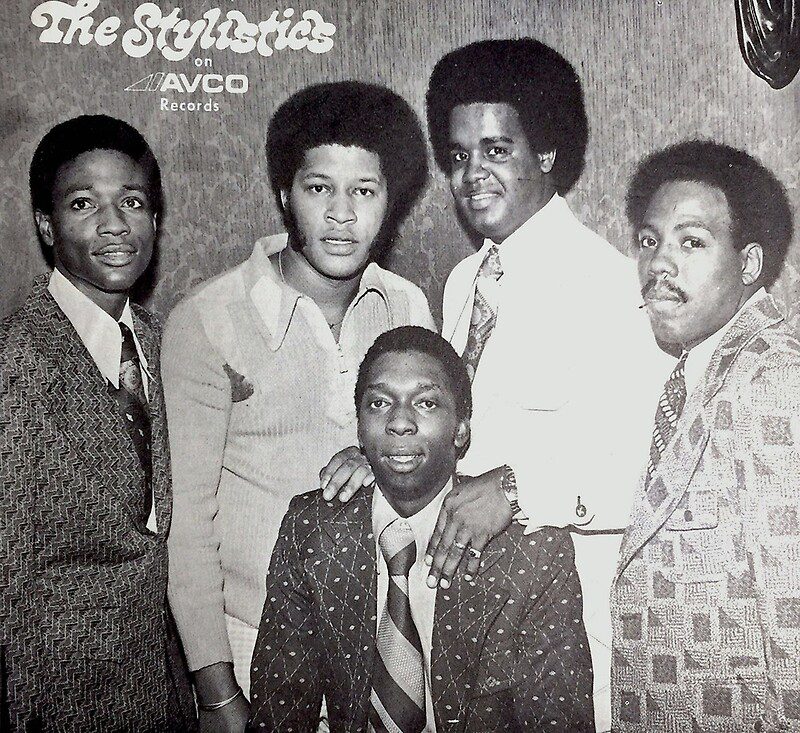 Formed in Philadelphia, Pennsylvania in 1968, from members of The Monarchs and The Percussions -The Stylistics, consisting of Russell Tompkins, Jr. (the group's signature falsetto singer), Herb Murrell, Airrion Love, James Smith and James Dunn with producer Thom Bell accomplished a feat in music that remains unparalleled –
These black male singers has 12 consecutive Top 10 R&B hits. 1971 – "You're a Big Girl Now" (#7 on the charts), "Stop, Look, Listen" (#6 on the charts), "You Are Everything" (#10); 1972 – "Betcha By Golly Wow" (#2), "I'm Stone in Love with You" (#4), "People Make the World Go Round" (#6); 1973 – "Break Up to Make Up" (#5), "You'll Never Get to Heaven"(#8), "Rock n Roll Baby" (#3); 1974 – "You Make Me Feel Brand New" (#5), Let's Put it All Together" (#8) and "Heavy Fallin' Out" (#4).
When Thom Bell left in '74, producer duties fell to the record label owners who brought in Van McCoy as arranger. Disco overshadowed The Stylistic's previous sound and record sales slumped in the US, but the change in sound made them huge stars in the UK. They still tour to this day in different incarnations.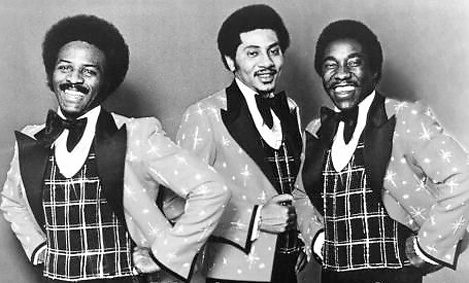 THE O'JAYS

Black male singers, The O'Jays (named after radio disc jockey, Eddie O'Jay) were formed in Canton, Ohio in 1958. They had some minor successes, but it wasn't until 1972, when they got signed to Philadelphia International under the guidance of Gamble and Huff that they exploded. Hit after hit kept coming for Eddie Levert, Walter Williams, and William Powell.
"Backstabbers", "Love Train", "For the Love of Money", "Give the People What They Want", "I Love Music", "Livin For the Weekend", "Message in Our Music", "Darlin Darlin Baby" and more shaped the sound of the times. Those times slowed down when Powell died in 1977 at the age of 35. He was replaced, but he was irreplaceable. Like many groups their US decline meant nothing overseas as the O'Jays were further embraced in Europe. In 2008 their material was destroyed in the Universal fire.
HAROLD MELVIN & THE BLUENOTES
Formed in Philadelphia, Pennsylvania, the original name was the Charlemagnes, but under the production of Kenny Gamble and Leon Huff at Philadelphia International, these black male singers became seminal hitmakers in the 1970s. The group is noted for breaking lead singer Teddy Pendergrass into stardom, but they were also a solid unit before his ascension. Melvin, Lloyd Parks, Bernard Wilson, Lawrence Brown, and John Atkins had some minor hits on various labels, but in 1970 lead singer, Atkins left, Lloyd Parks was replaced by Jerry Cummings, and new drummer Pendergrass was promoted.
He was so good audiences thought he was Harold Melvin. No matter. The hits are what mattered at the time. "If You Don't Know Me By Now", "I Miss You", The Love I Lost", "Wake Up Everybody", "Bad Luck" and "I Hope That We Can be Together Soon" were all major smash hits. However, Melvin's domineering and controlling manner of the group's finances and business forced the independent Pendergrass to go solo. The remaining Blue Notes stayed together and recorded and toured. Melvin died in 1997.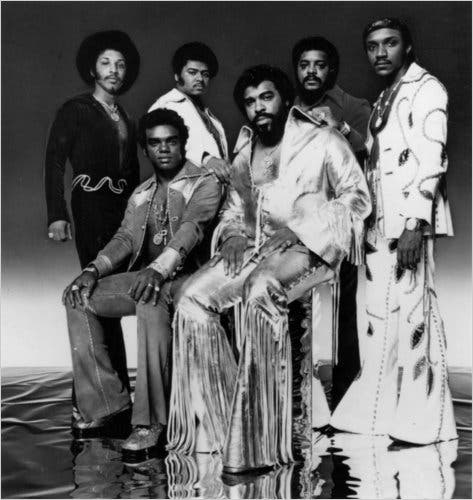 THE ISLEY BROTHERS
This group is a family affair and the family hails from Cincinnati, OH! In 1959, they had their first hit, "Shout," followed by "Twist & Shout". Then after a decade of moderate success, including 1969's "It's Your Thing", which went to #1, sold 1 million copies, and collected a Grammy, the black male singers found their groove in 1973.
The roster of O'Kelly Isley Jr, Ernie (Lead Guitar), Ronald (Lead Vocals), Marvin (Bass) and Rudolph Isley, along with brother-in-law Chris Jasper (Keyboards) were all about hit albums. 31 albums in total, with standouts starting with 3+3 (2 Million Sold), Live it Up (Gold) and The Heat Is On (Double Platinum), plus Harvest for the World, Go For Your Guns, Showdown and Winner Take All (all Gold or Platinum).
Their last hit LP was 1983's Between the Sheets. Afterward, the group splintered into various touring incarnations, solo attempts and smaller configurations, such as the short-lived, Isley-Jasper-Isley, but members remain musically active to this day.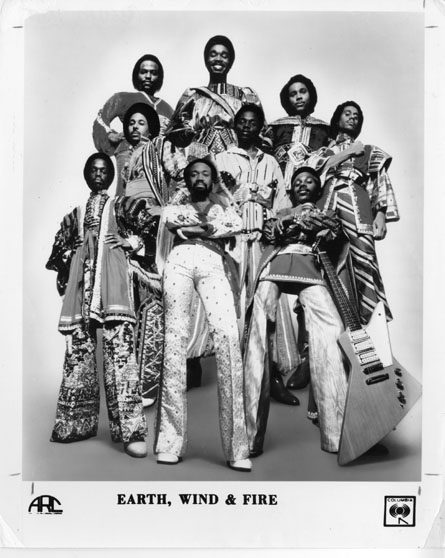 EARTH, WIND & FIRE
Universally heralded as one of the greatest bands of all time, Earth, Wind & Fire has the stats to back it up. Critics and the public alike agreed and rewarded them with 17 Grammy nominations, 6 wins; 12 American Music Award nods and 4 wins, 90 million albums sold – most certified Gold, Platinum, Double Platinum or Triple Platinum.
Founded in 1969 by Chicago jazz drummer Maurice White, the group went through various combinations before striking the right chord in 1972 when their contract at Warner Bros was bought by Clive Davis and the band found themselves at Columbia Records.
The line-up poised to make musical history were Maurice, his brother Verdine White (bass), Ralph Johnson (drums), Philip Bailey (vocals), Andrew Woolfolk (Reeds), Al McKay (rhythm guitar) Larry Dunn (keyboards) and Johnny Graham (Lead Guitar). 1973's Head to the Sky was their debut effort on the new label. It went Platinum.
In 1974 they had the #1 Soul LP in Open Our Eyes that went Platinum, and the same year their collaboration with Ramsey Lewis for Sun Goddess was also #1 Soul and went Gold. They incorporated spectacle into their performances; stage illusions engineered by master magician Doug Henning and his protégé David Copperfield.
That's the Way of the World in 1975 was the soundtrack of a failed movie, but fortunately, the group saw the rough cut of the film before its release, predicted it would flop, and released their album before the stink hit. The album became Billboard's #1 Soul and Mainstream album, being certified Triple Platinum. They repeated the same feat with Gratitude, a 2-disc set. Spirit in '76 – Double Platinum, All 'n All in '77 – #1 Soul, Grammy winner, and Triple Platinum.
In 1978 they got stuck in the soundtrack of another bad movie, Sgt. Pepper's Lonely Hearts Club Band, but their song, "Got to Get You into My Life," went to #1. The Double Platinum followed this, I Am in '79, and the certified Gold, Faces. More hit albums and international honors and awards continued throughout for the next several decades. On February 4, 2016, founder Maurice White passed away after battling Parkinson Disease, but EWF continues touring to this day.