The spirit of Howlin' Wolf stands tall as one of the true giants of Blues music.
As a native son of the Mississippi Delta Blues who brought an authentic rural acoustic essence up from the South to the Midwest, he was a bridge to the more electrified sound of the Chicago Blues scene.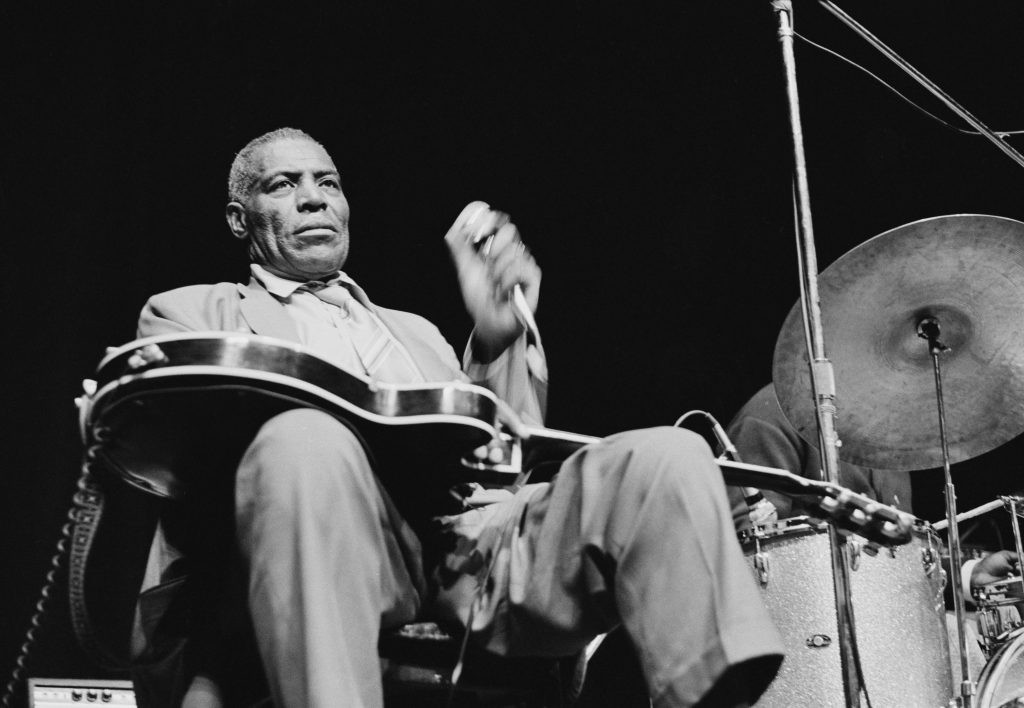 World-renowned for his towering stage presence and performing power, standing 6 foot 3 and weighing near 300 pounds, writing hardcore tales of lover's despair and singing them with a hair-raising animal growl, "The Wolf" was ferociously influential in Blues crossing over into Rock audiences.
Many of "The Wolf"'s most salacious classic songs were not played on the radio in their era. They were jukebox and word-of-mouth smashes. His most famous broadcasted songs include "Smokestack Lightnin'," "I Asked for Water (She Gave Me Gasoline)," "Who Will Be Next" and the notorious "Evil." The songs that were relegated to clubs, house parties and jukeboxes were "Wang Dang Doodle," "Back Door Man," "Little Red Rooster," "Killing Floor" and "Goin' Down Slow."
"Howlin' Wolf" was born Chester Arthur Burnett on the fabled day of June 10, 1910, in White Station, Mississippi.
His parents were Leon "Dock" Burnett (a farm worker) and Gertrude Jones.
1 Chester Burnett had a prickly relationship with his mother. As a child, he joined his mother singing in the choir of the Life Board Baptist Church in Gibson, Mississippi. He often credited her as the biological source of his musical gift. However, one winter, Jones kicked Chester – still a child – out of her home for reasons heretofore undisclosed.
This forced him to move in first with a great uncle who he bolted from at 13, allegedly walking 85 miles barefoot to his father's place where he lived happily in the patriarch's pleasingly large family home.
It was his father, Dock, who gave him his first guitar for his 18th birthday. Chester returned to visit his ailing mother at the peak of his success only to be rebuffed by her.
She refused to take the money he offered to help her because he earned it playing "the devil's music." The rejection broke his heart.
Chester had many influences in the Blues realm as he began learning the music. They included Ma Rainey, Blind Blake, Lonnie Johnson, Mississippi Sheiks and Blind Lemon Jefferson who's song "Match Box Blues" was among the first he learned to play all the way through.
Chester also admired the way Country singer Jimmie Rogers incorporated a blue yodel into his style. He could not approximate it so he turned it into a howl which later played a part (of many alleged origins) in his assuming the stage name "Howlin' Wolf."
The man who wielded the most profound influence on Chester was Charley Patton.
Chester would listen at him nightly perched outside of a local juke joint as he was too young to go inside.
Patton took a liking to Chester and taught him not only how to play guitar but how to use it as a prop for wild stage antics that would make his performances unforgettable.
The last piece of the puzzle was learning to play harmonica which he got from a first-class king of the instrument, Sonny Boy Williamson.
Ike Turner was the Producer and pianist of Howlin' Wolf's very first double-sided single "Moanin' at Midnight" b/w "How Many More Years."
Both songs along with at least four more were recorded at Sam Phillips' Memphis Recording Service in July of 1951. Turner had discovered Howlin' Wolf in West Memphis and brought him to Phillips in the role of "talent scout."
Phillips – who had not started his legendary Sun Records label yet – licensed those two songs to Chess Records in Chicago and the other four to Modern Records' subsidiary label, RPM Records.
Phil and Leonard Chess wound up signing Howlin' Wolf to their label where he would go on to make the lion's share of his recordings.
Indeed, "How Many More Years" (a b-side that became a Blues hit from DJs flipping it over) is cited by many as the first recording of Rock n' Roll's almighty "power chord" on a distorted amplified electric guitar.
The song became highly influential to many British Rock bands – especially one.
4 Wolf's first album was titled Moanin' in the Midnight (Chess – 1959). It consisted of the A and B-sides of six of his early singles, rounded up into one package. This is what most albums in any genre consisted of in the `50s.
Chester Burnett wrote all but one of the 12 songs from this early stage of his recording career.
Because of this publishing windfall and the fact that he was a successful local SRO performer, he drove his own car from Mississippi up to Chicago where he would begin molding his Mississippi Delta Blues into Chicago Blues.
5 Upon arriving in Chicago, Howling Wolf (Chester Burnett) became a sometimes friendly/other times arch-rival of Muddy Waters (McKinley Morganfield). Though it was Muddy that Wolf first reached out to upon his arrival in Chicago, their antics became legendary.
Muddy once stole Wolf's star guitar player, Hubert Sumlin, for a spell. Then one time at the Ann Arbor Blues Festival, Wolf attempted to stretch his set out extra long to prevent Muddy and his band from taking the stage.
Most famously, after Waters went the Psychedelic Blues-Rock route with his LP, Electric Mud (released on the Chess subsidiary Cadet Concept – run by Marshall Chess, son of Leonard Chess), Wolf released one titled The Howlin' Wolf Album. The cover was white with bold black lettering that stated, "This is Howlin' Wolf's new album. He doesn't like it.
He didn't like his electric guitar at first either." Though both albums were meticulously produced by wunderkind Charles Stepney and featured great Chicago session players such as guitarists Pete Cosey and Phil Upchurch, drummer Morris Jennings and bassist Louis Satterfield, neither Muddy nor Wolf cared for them. Howlin' Wolf likened his own album to "dog shit."
Howlin' Wolf was respected by musicians and club promoters for being a total professional about his business.
He paid his musicians well and on time, even withholding for their income tax and social security.
This was relatively unheard of for any musician in any genre to do at the time, especially in the rough and tumble world of The Blues. He even offered them health insurance benefits!
This foresight and no-nonsense behavior additionally extended to his private life. He was faithfully married to his wife Lillie, had two daughters, lived in a modest home on the south side of Chicago, hunted and fished, owned another piece of farmland in Arkansas, and often volunteered with the local fire department.
A great many of Howlin' Wolf's hit records as well as those of Muddy Waters were penned by Willie Dixon, a gentleman specifically brought to Chess Records for his prodigious hitmaking writing capabilities.
Among the songs he wrote that became a hit for Wolf is "Spoonful," now a Blues standard recorded and performed by hundreds.
Among the recordings of this song is a 13-minute version by Jazz orchestrator Gil Evans (from The Individualism of Gil Evans – Verve) featuring a stellar lineup of musicians including drummer Elvin Jones, guitarist Kenny Burrell, bassist Paul Chambers, trumpeter Thad Jones, alto saxophonist Phil Woods and violinist Harry Lookofsky. It was also covered by the British Rock trio Cream.
An exhaustive biography, "Moanin' at Midnight: The Life and Times of Howlin' Wolf," was co-penned by authors James Segrest and Matt Hoffman, first published in 2004. He has been the subject of a documentary film entitled "Smokestack Lightning: The Legendary Howlin' Wolf."
Footage of him has been featured in documentaries on Rolling Stones guitarist Keith Richards, ZZ Top, and others. And he was fictionally immortalized in the film "Cadillac Records" (loosely based on The Chess Records Story) in which he was portrayed by actor Eamonn Walker.
Howlin Wolf was fictionally immortalized for generations past, present and future as a featured character in Marvel Comics Presents #65/4 (December 1990).
The story, centering around superhero Starfox (a.k.a. Eros) – was written by Peter Gillis as 1 of 4 within the anthology. It was named after one of The Wolf's most famous hits entitled "Wang Dang Doodle."
10 Howlin' Wolf's final performance was in November 1975 at the Chicago Amphitheater. The all-star show also featured B.B. King, Albert King, Luther Allison and O.V. Wright. Though he had previously suffered from kidney disease and had several heart attacks, Wolf gave his all at this show, including crawling across the stage as he sang another of his greatest hits, "Crawling King Snake."
While he was given a 5-minute standing ovation on stage, a team of paramedics had to put in much work to revive him backstage. Chester Arthur Burnett died the following year on January 10, 1976, at Hines V.A. Hospital.
He had served his country as a soldier in the U.S. Army for two and a half years, partially assigned to the 9th Cavalry Regiment, one of the units dubbed "Buffalo Soldiers."
With them, Burnett participated in the largest military exercise ever held in the United States: The Louisiana Maneuvers (1941). His musical legacy is celebrated in West Point, Mississippi, at the annual Howlin' Wolf Memorial Blues Festival and at the Howlin' Wolf Museum.