The Jazz Tree has deep roots that were planted in New Orleans around 1895 the year that Buddy Bolden started his first band. With 126 years under its belt and a lot of branches and styles growing out of that tree, coming up with a list of the Top 10 Albums of All time is really more a matter of taste than style, but here are 10 Albums that everyone should at least have in their vinyl, CD collection, or their streaming playlist.
Miles Davis – Kind of Blue

(featuring: trumpeter Miles Davis tenor saxophonist John Coltrane, alto saxophonist Julian "Cannonball" Adderley, pianists Bill Evans and Wynton Kelly, bassist Paul Chambers, drummer Jimmy Cobb) – Columbia – 1959
Since its release in 1959, "Kind of Blue" with over 5 million copies sold, it has become the biggest selling jazz album of all time. It was honored on its 50th Anniversary in 2009 in Congress by John Conyers Jr. of Michigan in House Resolution 894 (HR94), reaffirming jazz as a national treasure.
It has influenced jazz, rock, and classical music, and was ranked number 12 on Rolling Stone magazine's list of the 500 greatest albums of all time.
Beyond the statistics and the all-star lineup, the song titles alone tell you that this is going to be something special. "So What", "Freddie Freeloader", "Blue in Green", "All Blues" and "Flamenco Sketches." Put it on and let the groove and attitude in this game-changer take to somewhere "Kind of Blue."
John Coltrane – A Love Supreme
(John Coltrane, tenor and soprano saxophone, Jimmy Garrison double bass, Elvin Jones drums, gong and timpani and McCoy Tyner piano) – Impulse – 1965
This is an album you can just put on and it will take you to a special place sonically and spiritually. Recorded in one session, "A Love Supreme" is a suite in four parts: "Acknowledgement", Resolution", Pursuance", and Psalm" the final movement which ends with what Coltrane called a "musical narrations" which he repeats along with a vocal chant sung by Coltrane accompanying himself.
Though it never charted, by 1970 it had certified Gold with over 500,000 copies sold. If you're not already a Coltrane fan, start by experiencing "A Love Supreme."
With a career that spanned 58 years, hundreds of album releases, and thousands of compositions, this 1956 live recording from the Newport Jazz Festival stands out and revitalized Ellington's career.
After a 27-chorus solo by Paul Gonsalves on Diminuendo and Crescendo in Blues, pandemonium took over and the normally sedate crowd was up dancing wildly in the aisles.
Duke Ellington – Ellington Live At Newport
(featuring: Duke Ellington piano, Cat Anderson trumpet, Willie Cook trumpet, Ray Nance trumpet and vocals, Clark Terry trumpet, Quentin Jackson trombone, Lawrence Brown trombone, John Sanders trombone, Britt Woodman trombone, Johnny Hodges alto saxophone, Russell Procope alto saxophone and clarinet, Paul Gonsalves tenor saxophone, Harry Carney baritone saxophone, Jimmy Hamilton clarinet, Jimmy Woode double bass, Al Lucas bass, Jimmy Garrison vocals and Sam Woodyard drums) – Columbia – 1956
With a career that spanned 58 years, hundreds of album releases, and thousands of compositions, this 1956 live recording from the Newport Jazz Festival stands out and it revitalized Ellington's career.
After a 27-chorus solo by Paul Gonsalves on Diminuendo and Crescendo in Blues, pandemonium took over and the normally sedate crowd was up dancing wildly in the aisles.
Louis Armstrong and His Hot Five
(featuring Louis Armstrong, trump and vocals, Earl Hines piano, Jimmy Strong, clarinet, Fred Robinson trombone, Mancy Carr banjo and Zutty Singleton hand cymbals. – Okeh – 1928
This is the album that contains the original Louis Armstrong recording of Joe "King" Oliver's composition "West End Blues." Armstrong's recording made in 1928 is known as "the clarion call" that served notice that jazz had the capacity to compete with the highest order of previously known music expression.
Critic Gary Giddens wrote that tune "came to symbolize more than any other, the ascendancy of a classic American Music. Armstrong's unaccompanied opening cadenza on "West End Blues" is considered to be the game changer and the defining moment that ushered in later developments in all forms of American music.
If you want to know where it all began, add "Louis Armstrong and His Hot Five" to your collection.
Herbie Hancock – Headhunters
(featuring: Herbie Hancock keyboards, Bennie Maupin tenor and soprano, saxello, bass clarinet and alto flute, Paul Jackson bass guitar, Harvey Mason Sr. drums, Bill Summers percussion, Columbia Records – 1973.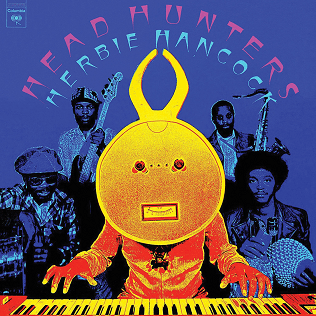 As a teenager, you could hear jazz, along with blues, soul, funk songs on Black Radio in their entirety, like the 15:45 version of "Chameleon" the jazz-funk masterpiece that is so in the pocket that it has been sampled and embraced over 45 times by artists as diverse as 2Pac, Frank Zappa, Ice Cube, Public Enemy and Biz Markie, Hancock and friends also offer an updated and funky version of his 1962 composition "Watermelon Man." Also featured are the tunes "Sly" dedicated to Sly Stone and the jazz-fusion tune "Vein Melter." Head Hunters became the first jazz album to sell over a million copies and you need this in your collection.
Time Out – The Dave Brubeck Quartet
(featuring: Dave Brubeck (piano) Paul Desmond (alto saxophone), Eugene Wright (bass), Joe Morello (drums) Columbia Records -1959
With its odd time signatures, the unmistakable tone of Paul Desmond's alto sax, Joe Morello's crisp and driving drumming, and Eugene Wright holding down the bottom on bass, "Time Out" was rare in it's day for the unusual risks Brubeck and friends took crossing racial and cultural barriers as a quartet and international barriers as composers.
From the opening track "Blue Rondo a' la Turk to The classic "Take Five" another tune that has been sampled 34 times and covered over 85 times by everyone from King Tubby, Al Jarreau, Grover Washington Jr., Tito Puente, George Benson, Chet Atkins, Art Farmer and more. "Take Five" and some "Time Out" check out the Dave Brubeck Quartet.
Ella and Louis – Ella Fitzgerald and Louis Armstrong
(featuring: Ella Fitzgerald and Louis Armstrong (vocals) Ray Brown (bass), Herb Ellis (guitar), Oscar Peterson (piano), Buddy Rich (drums) – Verve Records – 1956
The Alpha and Omega of jazz vocal styling, scatting, and swing. Louis Armstrong and Ella Fitzgerald come together on this 11 song love affair between two friends at the top of their game performing standards by Irving Berlin, the Gershwin's, Hoagy Carmichael, and more, accompanied by the Oscar Peterson quartet at Capitol Studios in Hollywood and released on Norman Granz' Verve label.
It was the first of three albums that Fitzgerald and Armstrong for Verve. This album is pure joy, put it on and get ready to smile.
Moanin' – Art Blakey
(featuring Art Blakey (drums), Lee Morgan (trumpet), Benny Golson (tenor saxophone), Bobby Timmons (piano), Jymie Merritt (bass) – Blue Note Records – 1959
"Moanin'" the classic jazz tune composed by pianist Bobby Timmons for this Art Blakey and The Jazz Messengers Album marked a homecoming to Blue Note Records and a fresh start for Art Blakey. The album also features compositions from saxophonist Benny Golson, trumpeter Lee Morgan and "The Drum Thunder Suite" a feature for Blakey, in three movements that became a staple of the Messengers book.
Performing with one of his best bands, this album will have you bopping your head and tapping your feet, and possibly "Moanin'"

Wynton Marsalis Septet – Live At The Village Vanguard
(featuring: Wynton Marsalis trumpet, Wessell "Warmdaddy" Anderson alto, and Sopranino saxophone, Ben Wolfe bass, Herlin Riley drums, Eric Reed Piano, Todd Williams, and Victor Goines, tenor and soprano saxophone and clarinet, and Wycliffe Gordon tromboneAlto Saxophone – Wessell "Warmdaddy" Anderson) – Columbia – 1999
I was first gifted this 7 Disc 53 song CD Box set in 2001. I had heard the Septet in formal venues in Cincinnati and Chicago, but never in an intimate venue. Re-released in 1999, this live recording captures everything I had been missing. You feel like you're in the room with a Wynton Marsalis Septet in Full Swing.
From the blistering version of "Cherokee" on disc one (Monday) to "Altar Call" on disc seven (Sunday). If you've never heard the Wynton Marsalis Septet, this live recording at the Village Vanguard will make you want to the next time they are in your area.
Chick Corea – "Light as a Feather"
(featuring: Chick Corea Fender Rhodes electric piano, Airto Moreira drums, Flora Purim vocals and percussion, Stanley Clarke bass and Joe Farrell flute) – Polydor Records – 1971
Spain" is jazz pianist and composer Chick most recognized piece, and from the album "The Light as a Feather" which received was awarded the Best Instrumental Arrangement Grammy for "Spain for Sextet and Orchestra in 2001.
Corea features Stanley Clarke on double bass, Flora Purim on vocals, Airto Moreira on drums, and Joe Farrell on flute, soprano saxophone, and tenor saxophone, which later formed the core of the group "Return To Forever." "Light as a Feather" begins with "You're Everything" and ends with "Spain."
If you like the music of artists like Robert Glasper, Nicholas Payton, and Snarky Puppy who borrow generously from the Chick Corea fusion style, you'll love "Light as a Feather."
I hope these 10 recordings will help you with your jazz collection.