Comedy should be debated like sports. For every fan of Jordan, there are those who feel Kobe or Lebron tops him. For every Brady acolyte, there's a Mahone disciple or a Rogers apostle. That's because comedy, like sports, is not so much a matter of stats, but also favorites.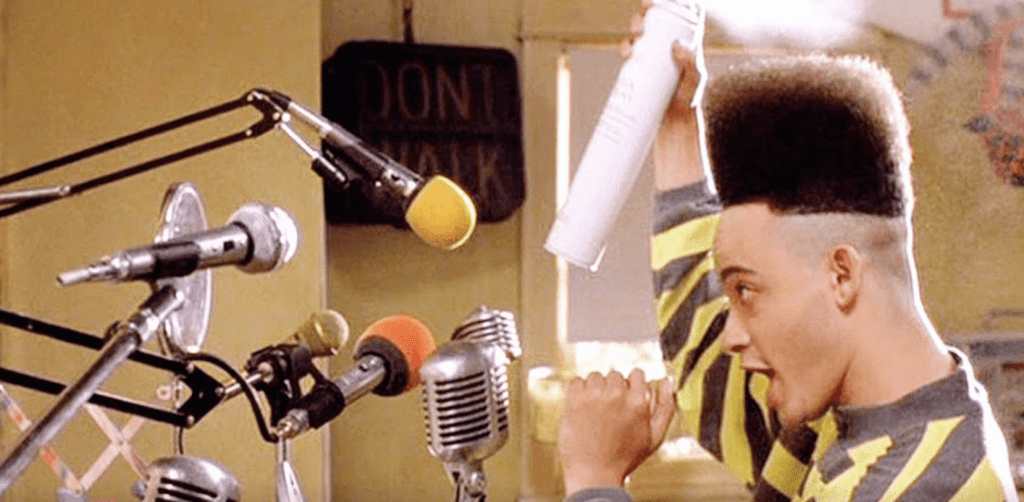 Just as some athletes spark your imagination and inspire, comedy meets the same criteria. I don't know which comedy movie is the funniest of all time. A lot of one's opinion is based on one's age, life experiences, and mood when you first watch the film. So, this list, like most, will be scrutinized and for some, it will make heads explode, but despite all that, nobody can say these particular movies aren't hilarious gut busters. See what I mean . . .
LET'S DO IT AGAIN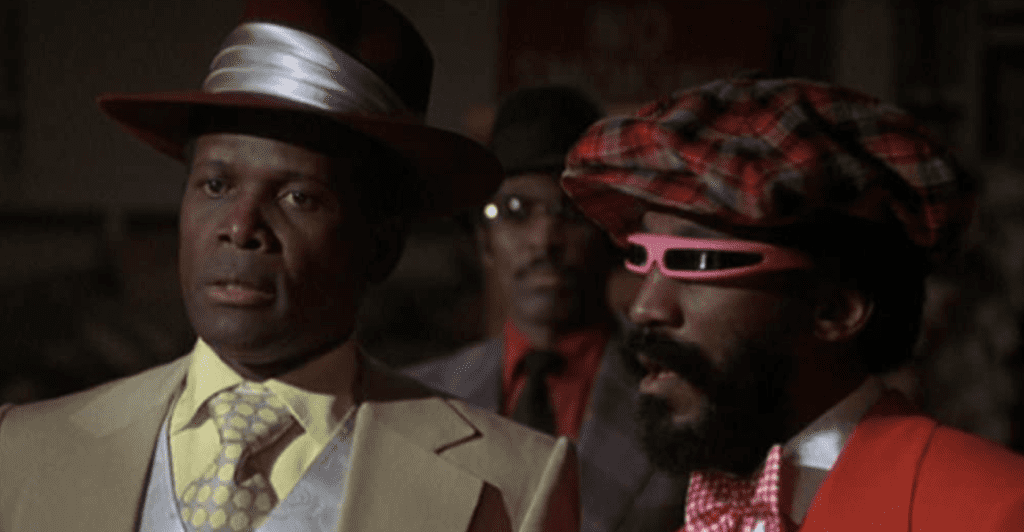 This film is the second entry in the Poitier/Cosby trilogy of comedies. The first was Uptown Saturday Night. The Third – A Piece of the Action. Like the others this one was directed by Sidney Poitier and co-stars himself and Bill Cosby. Jimmie Walker, Calvin Lockhart, Ossie Davis, Denise Nicholas and John Amos appear, along with a cameo by George -Foreman. In all the films the names of Poitier and Cosby change as do their professions.
In Let's Do It Again, the duo plays blue-collar workers who scam to make money for their financially strapped lodge. Poitier knows how to hypnotize, and Cosby has a plan. They'll make the longshot boxer (Walker) think he's a fierce fighter, bet heavily on him winning and clean up. The scheme works like a charm until the gangsters who lost money on the plot figure it out and pay Poitier and Cosby a little visit. They want to get even. Either the two again use hypnotism to rig the upcoming title bout or the two will be out for the count. It's an offer they can't refuse, only they can't get back into Walker's training facility – security is beefed up for the new champ. So, they hypnotize the other boxer, and the result is a match that's a draw. Of course, the two buddies bet on this and the gangsters are once again on their trail.
Let's Do It Again is considered the best of the trilogy in all aspects. The music is outstanding, with a memorable soundtrack by the Staple Singers. The critics loved it and the audiences were happy. The film grossed $11.8 million dollars on a $70,000.00 budget
COMING TO AMERICA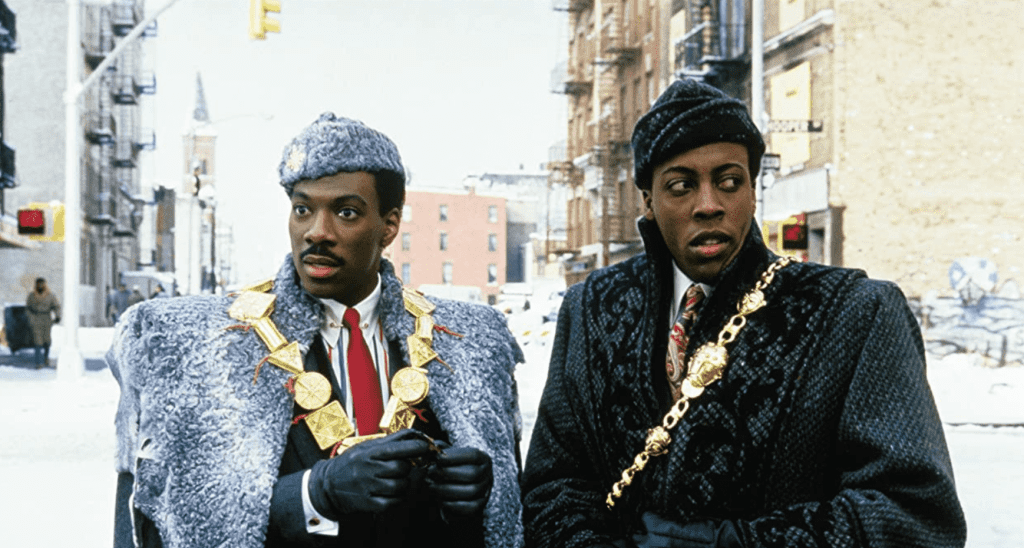 Reuniting Eddie Murphy and director John Landis, the comedy is about the African crown prince, Akeem Joffer, from the fictional nation of Zamunda, who comes to the United States in the hopes of finding a bride. The film co-stars Arsenio Hall, James Earl Jones, Shari Headley, and John Amos.  
Following a negative press screening in New York, Paramount canceled all press screenings of the film. Their concern proved to be unfounded as the film was a commercial box-office success, both domestically and worldwide, grossing $288,752,301, making it the highest-earning film that year for the studio and the third-highest-grossing film at the United States box office.
Coming to America was nominated for two Academy Awards for Best Costume and Best Makeup. The soundtrack also did well. Two singles ("Coming to America" and "Come into My Life") were released and the song, "That's the Way It Is" went to the top ten in the UK.
It seemed the only downside was the 1990 Buchwald v. Paramount civil suit. Humorist Art Buchwald claimed the film's idea was stolen from his 1982 script treatment; a treatment Paramount had optioned from him, with John Landis attached as director and Murphy as the lead, but after two years in development, the studio dropped the project in 1985. Then in 1987, Paramount began working on Coming to America based on a story by Murphy. Buchwald won for breach of contract and settled out-of-court.
WHICH WAY IS UP?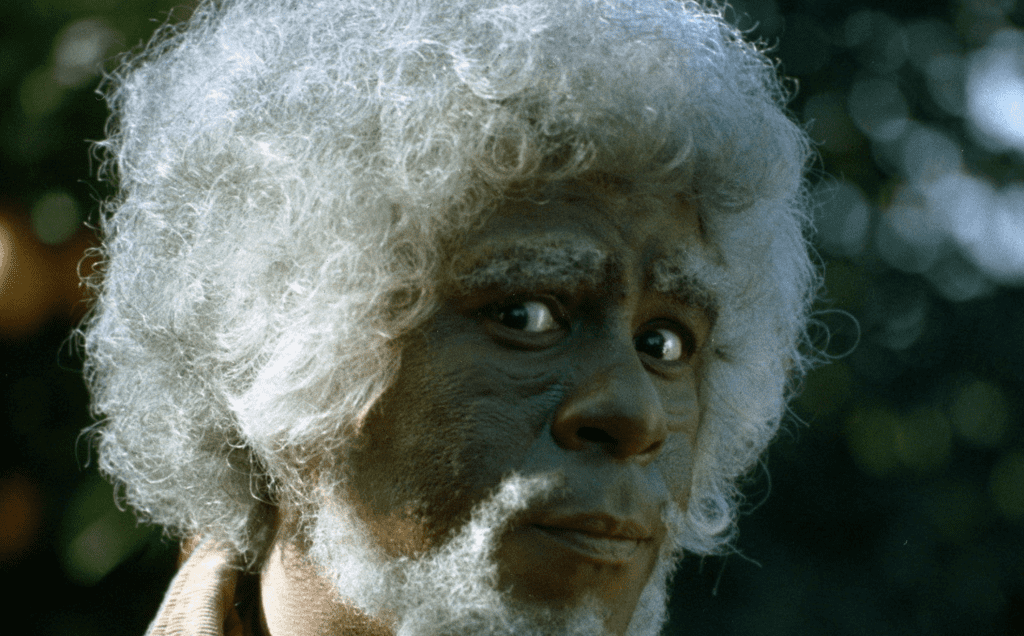 This was Richard Pryor's first major starring role, and he did not disappoint his fans. Based on the Italian comedy, The Seduction of Mimi, Which Way Is Up? tells the story of a Black fruit picker trying to hide his mistress from his wife. Michael Schultz directed the hilarity, and the laughs roll from beginning to end.
Pryor delivers a tour-de-force as three characters: the fruit picker, his daddy, and the preacher who screws his wife and gets her pregnant.   That happened because the fruit picker left his family (with their permission) to go to Los Angeles to pick more fruit.  Of course, there are women in Los Angeles and the fruit picker meets one and falls in love with her; probably because she's super fine (as played by Lonette McKee).   He returns home but takes his new family with the fine girl with him and stashes them across town.  Back to that preacher.   He just did what preachers do and screwed a member of his congregation who just happened to be the fruit picker's lonely wife. It all ends with the fruit picker walking up the road all by himself.  
Which Way Is Up? was not adored by critics, but when did that ever matter when it comes to comedy? Critics who review movies for free like wit. Paying moviegoers like to laugh. This flick delivers. It also delivered a cast consisting of Margaret Avery, Morgan Woodward, BeBe Drake, Otis Day, Luis Valdez, Danny Valdez, and Paul Mooney.
FRIDAY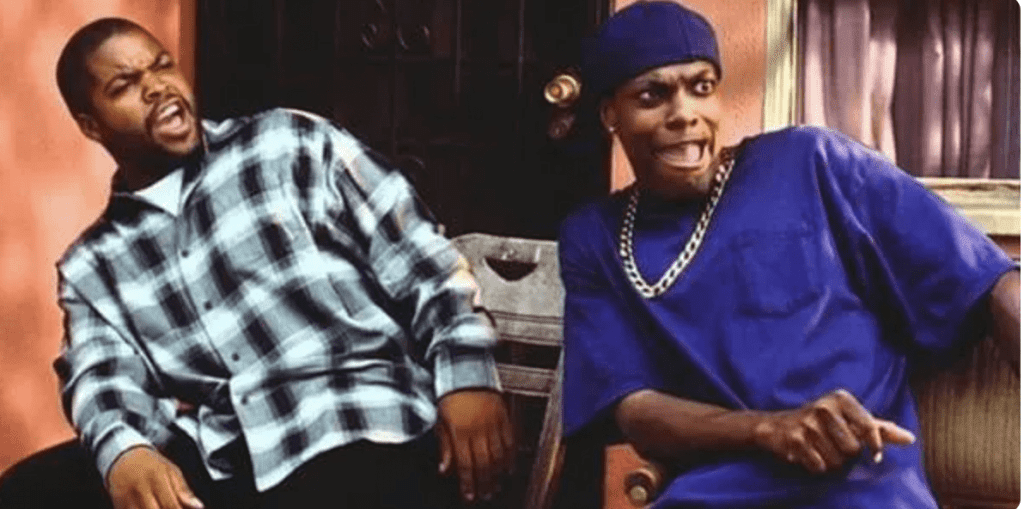 This was rapper, Ice Cube's first foray into comedy and he and co-writer, DJ Pooh knocked it out of the park. The story of a day getting high was a box office success and made co-star, Chris Tucker a movie star. Directed by F. Gary Gray (his first film), Smokey (Tucker), a low-level weed dealer must pay the dope man (Faizon Love) $200 later that night and he's just kicking it getting high with his newly unemployed buddy Craig (Cube) until he can figure out how he's going to do it. That's pretty much it with the rest being the hilarious antics that situation is bound to set up.
All the neighborhood characters are there. You've got the crackhead (A J Johnson) always looking to get some money for the sole purpose of hitting the pipe; the Pastor (Bernie Mac) who's always lurking around to lay 'hands' on the sisters in need of 'hands'; the unattended to or horny wife (Kathleen Bradley) who the Pastor lays his 'hands'; the husband of the unattended wife (Tony Cox) who catches the one he said vows with and the guy they might've said them in front of involved in 'hands' laying; the fine-girl-in-the-ghetto (Nia Long) who Craig likes; the hood bully (Tiny Lister) who whoops you and takes your stuff or vice-versa; the poot-butt (D J Pooh) who gets his stuff taken from the bully and the girl who begs so much you've got to tell her 'bye' (Angela Means).
All fun and games aside, Smokey is in a life-or-death situation. If he doesn't come up with $200 – it's curtains. Death for Craig, too by association. With his life on the line, Craig starts packing a pistol and gets caught by his dad (John Witherspoon) who tells him to fight with his hands, not a gun. Good advice, but it seems meaningless later when confronting the bully, but he gives the fists thing a try and is losing – badly. So, Craig tries more than his fists – things like a brick and wins. Smokey steals the unconscious bully's money and pays his dealer; the crackhead gets his shoes and Friday spawned sequels.
Friday also featured the talents of Anna Maria Horsford, Regina King, Yvette Wilson, Reynaldo Rey, Paula Jai Parker, Ronn Riser, Terri J. Vaughn, WC, Meagan Good, Michael Clarke Duncan, Vickilyn Reynolds, and LaWanda Page.    On a budget of 3.5 million, the film grossed $24,467,564 domestically and $748,354 internationally for a total worldwide box office gross of $28,215,918.
STIR CRAZY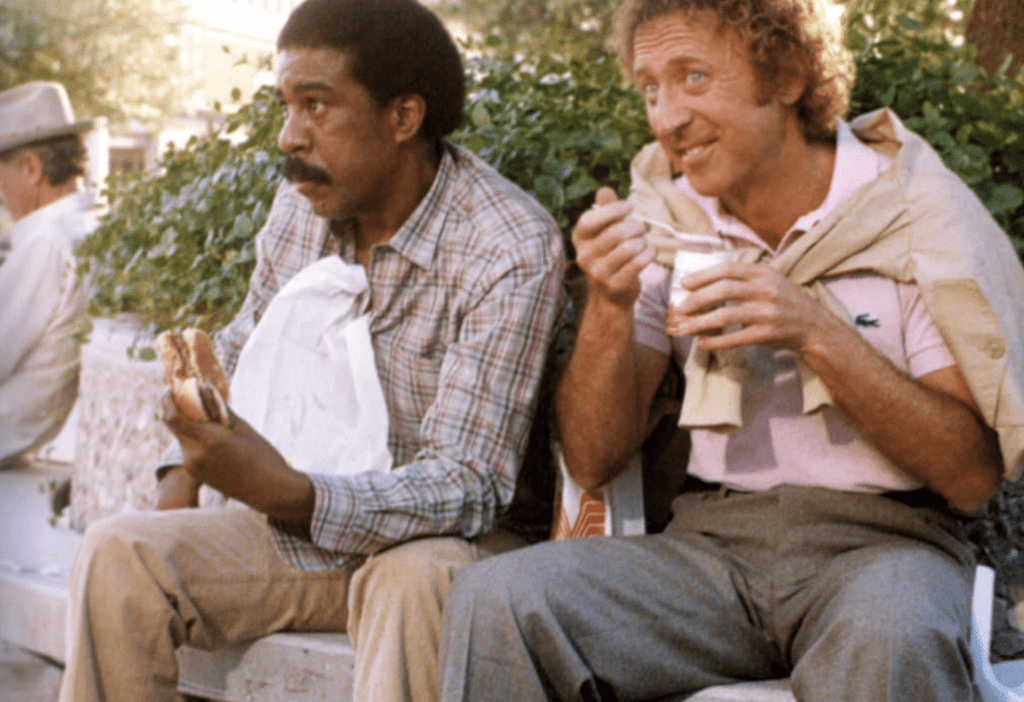 This Richard Pryor / Gene Wilder comedy marks the first time a film directed by a Black director grossed over 100 million dollars. The director was Sidney Poitier, and the true figure was $101,300,000 on a $10 million budget. It was the third biggest box office hit of 1980 right behind The Empire Strikes Back and 9-to-5. With music by Tom Scott, Stir Crazy was a fun ride.
The story is about mistaken identity. Pryor and Wilder are in the entertainment business but have soured of living in New York. So, they pack up and head to Hollywood, taking odd jobs along the way. One of those gigs is a promotion for a local hick bank. The duo dressed up like giant chickens and dance around like fools singing a silly song. When Pryor and Wilder go on their lunch break, two unsavory characters steal their chicken suits and rob the bank. When our clueless and hapless heroes return to work, they're arrested and put through a hasty trail that nets them 125 years in a maximum-security prison.
Life behind bars does not agree with Pryor and Wilder. Between their court-appointed lawyer asking them to relax while he appeals and the guards attempting to break them down, they're ready to go. Their exit strategy makes its appearance in the form of a lucky break. The cocky warden wants to humiliate the two New Yorkers and test their manhood by having them ride the mechanical bull in his office. To the warden's surprise, as well as that of his galoot guard, Wilder can not only stay on the bull, he's a natural-born rodeo star. This gets the warden to thinking. If he has Wilder ride in the upcoming annual rodeo then he can finally win the big bet from the warden at the competing penitentiary.
The warden's plans fail when Wilder refuses to participate. The guards make him work until he's supposed to drop. He still won't do it. They put in solitary confinement. No, he won't do it. Finally, he agrees as long as the warden gives him a bigger cell and lets him pick his own rodeo team. Agreed. The team is made up of the group of prisoners Pryor and Wilder have befriended and who all plan to escape during the rodeo. That plan works wonders as the huge mass murderer opens a panel for each member of the crew to slip out. Once Pryor and Wilder leave they all meet up and some of the crew head off to the south of the border. As Pryor and Wilder drive off in their car the court-appointed lawyer cuts them off. He got a judge to let them off with his newly submitted evidence. They're free to go on with their lives and Pryor, Wilder, and the lawyer's cousin, who Wilder is now hooked up with, drive off into the sunset as the lawyer waves his goodbye.
Stir Crazy received favorable reviews. Written by Bruce Jay Friedman, the film featured the talents of Georg Sanford Brown, Franklyn Ajaye, Grand L. Bush, Jobeth Williams, and Craig T. Nelson.
UPTOWN SATURDAY NIGHT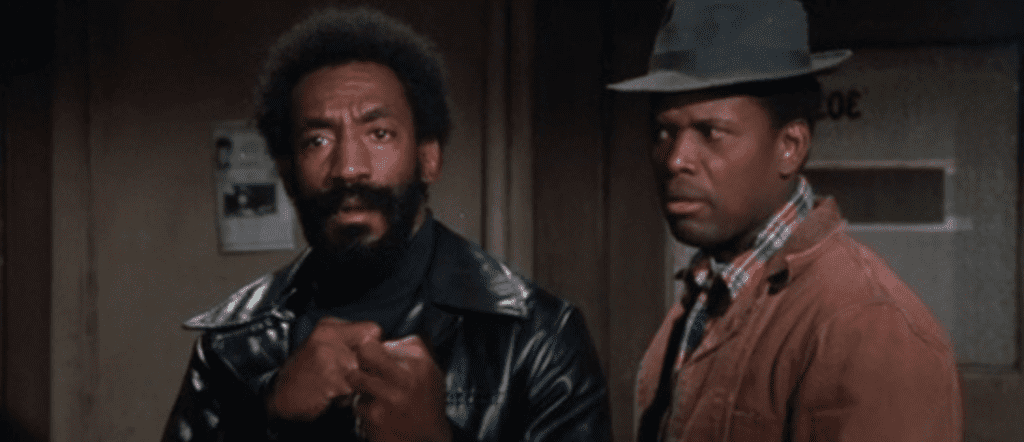 Directed by Sidney Poitier, this classic comedy is the first in a trilogy that included Let's Do It Again (1975) and A Piece of The Action (1977). All three films starred Poitier and Bill Cosby. This outing also co-starred Harry Belafonte as Geechie Dan Beauford.
The story revolves around a robbery. Poitier plays a straight-arrow working man on a two-week vacation. Cosby is his wild sidekick, who talks him into going to Madam Zenobia's nightclub. Next thing they know robbers have everybody stripping naked and stealing everything not down their throats. Unfortunately for Poitier, his wallet wasn't down his throat and it held a winning lottery ticket, which he now has to get back, with the help of Cosby of course. That's when the real fun starts.
This film features some of black Hollywood's most enduring legends. Richard Pryor plays a con man who gets busted right after taking their money to crack the case. Harold Nicholas of the dancing Nicholas brothers plays Little Seymour Pettigrew, a diminutive gangster with a bodyguard named Big Percy. Flip Wilson is a reverend. Roscoe Lee Browne is a congressman and Paula Kelly is pretty much Paula Kelly, but they called her Leggy Peggy. Other cast members include Rosalind Cash, Calvin Lockhart, Lee Chamberlin, and Lincoln Kilpatrick.
Uptown Saturday Night was an immediate success. Written by Richard Wesley and Poitier, the film was produced by First Artists and Melville Tucker. The budget was $3,000,000 and the box office take was $6.7 million.
THE NUTTY PROFESSOR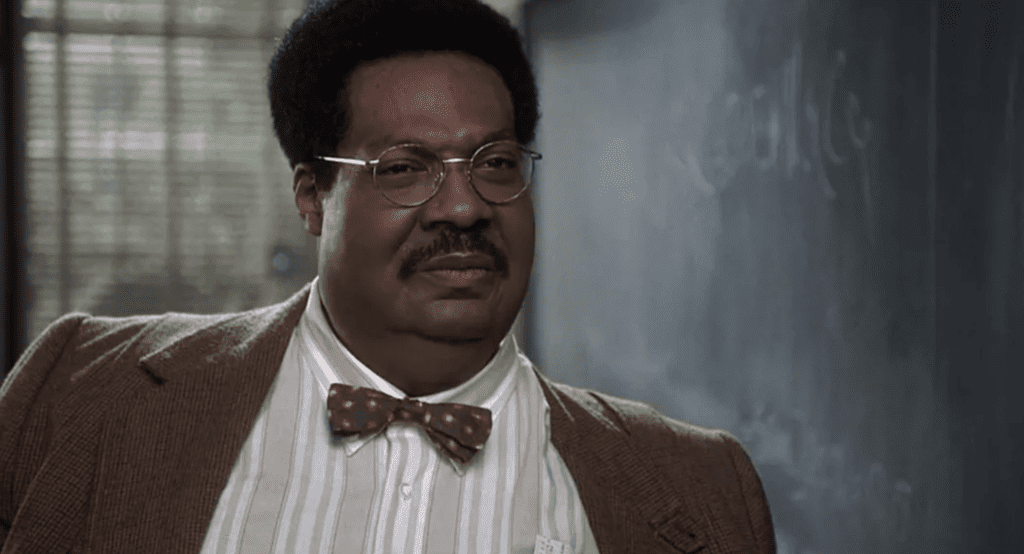 This was considered an Eddie Murphy comeback film. It wasn't the first or the last. After his first slump, the unholy trilogy of The Distinguished Gentleman, Beverly Hills Cop III and Vampire in Brooklyn, Hollywood was ready to remove Murphy's nameplate from his studio parking space until the 1963 Jerry Lewis remake got made. Hollywood had to be quiet until the next slump from the mega-star.
In this updated version Murphy plays the portly Professor Sherman Klump, a genius with a weight loss formula. It makes him develop a slim, toned, wild, and crazy alter ego who gets the unknowing Klump in plenty of real-time trouble. Originally based on Robert Louis Stevenson's 'Strange Case of Dr. Jekyll and Mr. Hyde', Klump's dilemma is that the alter ego, once controllable, takes over. The climax occurs when Klump regains his life and banishes the thin man.
The Nutty Professor co-starred Jada Pinkett, Dave Chappelle, Larry Miller, James Coburn, Jamal Mixon, John Ales, and Montell Jordan as himself. Eddie Murphy displayed his versatility by playing his entire family – his father, mother, grandmother and brother as well as a Richard Simmons parody character. The film deservedly won an Oscar for Best Makeup. Tom Shadyac directed, and Jerry Lewis was one of the executive producers.
The critics loved the film and so did the ticket-buying public. On a budget of $54 million, The Nutty Professor earned $273,961,019 at the worldwide box office. Murphy even received a Golden Globe nomination for Best Actor. This so-called lightning in-the-bottle fluke even spawned a sequel (2000's Nutty Professor II: The Klumps). The comeback was complete and the string of flops was over; that is until Showtime, The Adventures of Pluto Nash, I-Spy, Daddy Day Care, The Haunted Mansion . .
HARLEM NIGHTS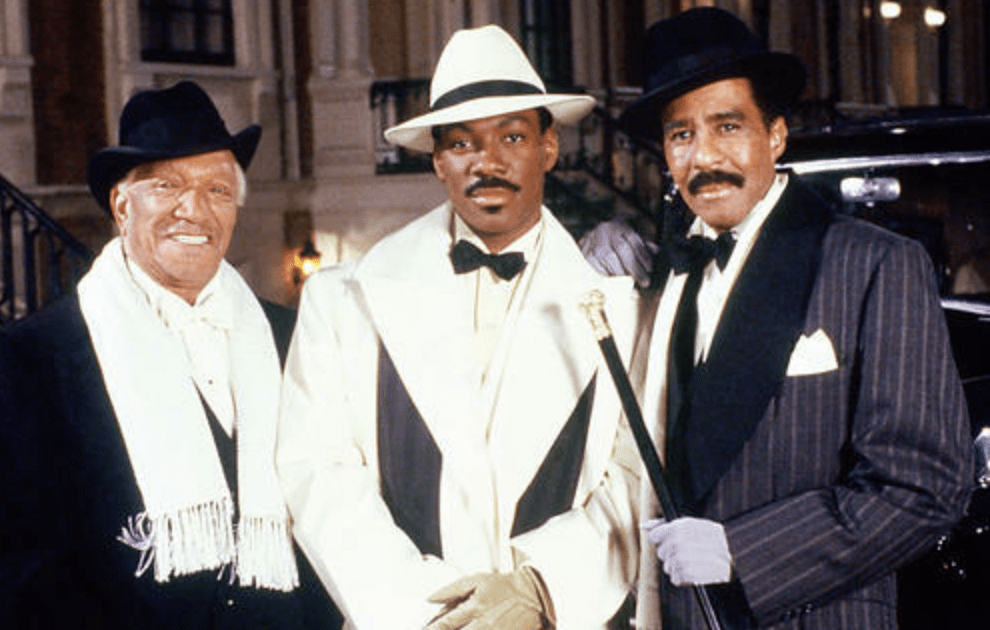 Written, executive produced, and directed by Eddie Murphy, Harlem Nights featured practically every working veteran comedian of the era. Richard Pryor plays Murphy's surrogate father who raised him and taught him how to get over in the world of crime after young Murphy shoots a man to save Pryor. They end up running a nightclub in Depression Era Harlem where criminal activity and corruption are always lurking in plain sight. And speaking of sight, Redd Foxx plays a damn near blind partner of the duo. Robin Harris and Charlie Murphy are henchmen. Arsenio Hall is a rival gangster and Della Reese runs the hoes at their brothel. Also featured are Tommy Mikal Ford, Jasmine Guy, Berlinda Tolbert, Michael Lerner, Danny Aiello, Stan Shaw, Uncle Charlie Murphy and Reynaldo Rey.
The plot revolves around Pryor being muscled in on by gangsters. He decides to retire before he has unwanted partners, however, he wants to make sure all his people are taken care of. So, Pryor plans a scheme for an upcoming fight and uses a call girl named Sunshine to help him carry out his plot. Sunshine was so sexy and fine that an Italian bagman called his surely equally Italian wife to tell her he wouldn't be coming back and to take care of the kids. That along with a series of twists and turns leave Pryor and Murphy triumphant. They get the scam money, avoid death and arrest, and leave Harlem for good after screwing its underworld system.
Critics panned Harlem Nights. They didn't like the direction. They didn't like the screenplay. They didn't like the sets or the cinematography. They just plain didn't like it. Regardless, Harlem Nights opened at number one at the box office its first weekend. On a budget of $30 million it grossed a total of $60,864,870 domestically and was nominated for an Academy Award for Best Costume Design.
HOLLYWOOD SHUFFLE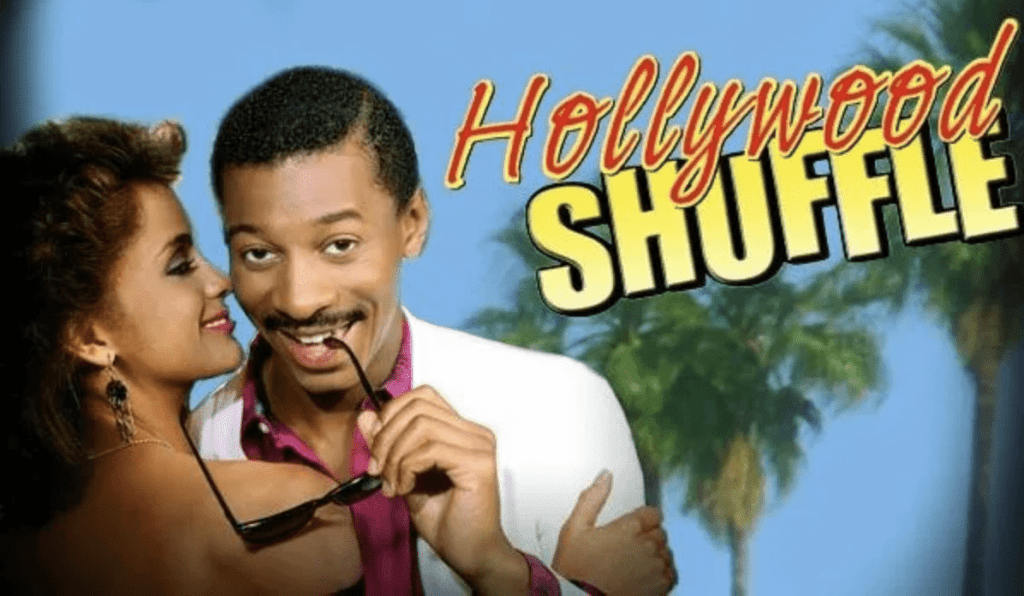 Produced, directed, and co-written by Robert Townsend, this film is a satirical attack on Hollywood's systematic stereotyping of blacks in the media. Townsend financed the indie with his own credit cards and used the storyline of a struggling black actor interspersed with vignettes to illustrate his point. There are scenes of slavery, popular films, movie reviewers and more as Townsend's character's imagination lets us in on his conflict in being an underused and often degraded minority in the world of entertainment.
Hollywood Shuffle is about Bobby Taylor (Townsend) having to decide to take a cooning part in a Black gang film. His grandmother is against it. His mother supports him, but she is also against cooning. His co-workers and boss couldn't care less if he coons or not. They don't think he'll ever make it as an actor anyway and he needs to keep his mind on his job at Winky Dinky Dog. They're wrong. He gets the coveted role and finds out he can't do it. It's too much cooning. So, he takes his grandmother's advice and gets a job working for the post office. He does a commercial for USPS.
This comedy classic was co-written by Keenan Ivory Wayans and co-produced by Dom Irrera, Hollywood Shuffle features Anne-Marie Johnson, John Witherspoon, Brad Sanders, Helen Martin, Eugene Robert Glazer and Paul Mooney.
The film was a critical and box office success. It won the 1987 Deauville Film Festival Grand Special Prize Critics Award and Coup de Coeur LTC Award for Robert Townsend and made $5,228,617 on a $100,000 budget.
COTTON COMES TO HARLEM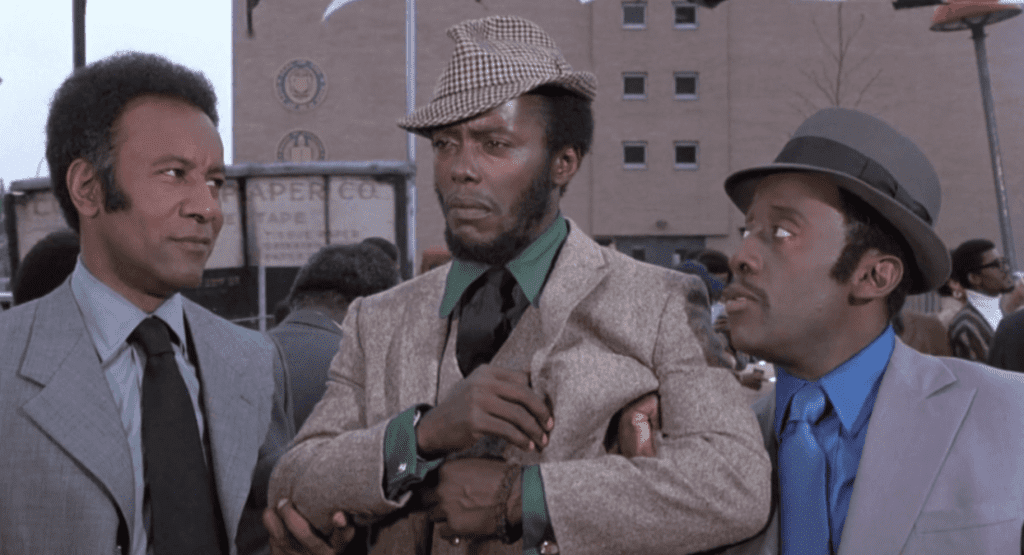 Based on the Chester Himes novel this Ossie Davis directed hit starred Godfrey Cambridge and Raymond St. Jacques. It was co-written by Davis and Arnold Perl and the theme song (which was sung by Melba Moore) was also written by . . . Ossie Davis. Oh, and by the way Cotton Comes to Harlem marks the screen debut of Calvin Lockhart, Judy Pace, Cleavon Little and Redd Foxx as a junk dealer.
The story revolves around a back-to-Africa movement and $87,000 in stolen cash. Seems the crooks stuffed their loot into a bale of cotton and dumped it on the streets during their high-speed getaway. Two Harlem detectives are assigned to find the cash, but everybody else who heard about it feels it is their obligation and duty as well and the citywide hunt is on. There are shootouts, more car chases, sexy women, gangsters, and a whole lot of jive-talking. It was considered a Blaxploitation film. What would you expect? Cotton Comes to Harlem boasts an impressive cast of 1970's character actors: Theodore Wilson, Don "Bubba" Bexley, John Anderson, Eugene Roche, J. D. Cannon, Lou Jacobi, Emily Yancy, Dick Sabol and Mabel Robinson. Produced on a budget of $1.2 million the film grossed $5.2 million making it one of the most commercially successful films starring Blacks in Hollywood history and it spawned the sequel, Come Back Charleston Blue (which was not written, directed or theme song composed by Ossie Davis).