Top 10 Black Queer Celebrity Couples That Show LGBTQ Love is Flourishing
By: Princess Dominiko
Love is love. However, though this sentiment of love being pure and true to itself is prevalent today, in our recent past, queer love was demonized, especially within the black community, where toxic masculinity is predominant and where being a trans, black woman is equal to a death sentence.
Because of this prejudice, many black actors and musicians were forced to hide their sexuality and live in shame.
Nonetheless, with the aforementioned prevailing acceptance for all love and the 2015 legalization of gay marriage, the number of black celebrities coming out and standing proud in their love has grown. Therefore, we present to you the top 10 celebrity couples that prove that queer love is thriving within the black community:
Jason Bolden and Adair Curtis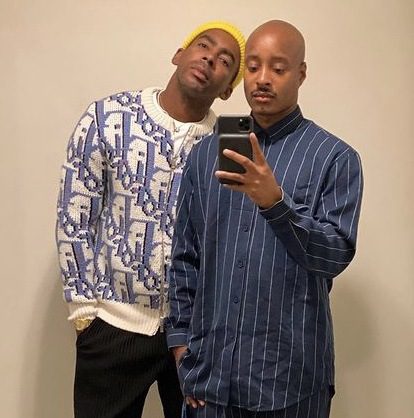 Netflix has been popping off with its ever-increasing list of gay shows. One of these shows is "Styling Hollywood," which focuses on the lives of Jason Bolden and Adair Curtis. Jason is a celebrity stylist with a resume that includes working with A-list celebrities, like Taraji P Henson and Wiz Khalifa, while Adair is an interior designer, so you can imagine that they both serve looks in and outside their house.
And their Netflix show is revolutionary, which is great, for the way in which it highlights the life of black, gay men who aren't often seen in media, but also bad, because, really, only now, in 2022, there's a reality show focusing on black, gay love?
Justice Smith and Nicholas Ashe
There's no other way to describe this couple other than being darlings. Their sweet romance began a little over a year and a half ago, when, Smith spoke out, via Instagram, about the need for black queer people to be included in the black lives matter movement, "As a Black queer man, myself, I was disappointed to see certain people to say Black Lives Matter, but hold their tongue when Trans/Queer was added."
He continued on by bringing some levity to the sad situation, by presenting his fans with an assortment of photos of him and his boyfriend showing off their #blackboyjoy. 
A few months later, Ashe went onto the same picture-taking platform as his boyfriend and published a sweet for his birthday, "Justice, you have been the author of all my recent smiles. You make me feel safe. seen. heard. inspired. admired. returning the favor has been my favorite adventure. I've always appreciated your authenticity, and brilliance, and passion, but you have certainly outdone yourself this year. Bravo."
Willow Smith and Tyler Cole
Willow Smith and Tyler Cole, though a unique choice for the list, for their seemingly heterosexual relationship, are proudly queer themselves and show that queerness isn't just a matter of being gay or bi, but it can also mean the preference of a relationship outside the "norm" of society.
 It was in 2021, while dating Cole, that Smith came out as polyamorous, preferring ethical non-monogamy, a type of relationship that has partners consenting to polyamory or love outside their partnership. The two have been dating for the past five years now and collaborate on music together, including the ever-popular hit "Meet Me At Our Spot."
Anthony Hemmingway and Steven Norfleet
Anthony Hemmingway and Steven Norfleet are nothing but a couple of kings. The duo has spent the last 8 years together, with 4 of the last years being in marital bliss. However, before they were walking down the aisle, the couple met, funnily enough, after a church service, on Easter Sunday in 2014.
In an interview with The New York Times, Hemingway described their chance encounter in an with refreshing honesty, comparing his would-be husband, who was dressed in a bow tie and round-framed glasses at the time, to a young Malcolm X, "I was trying to be present in the conversation I was having, but I kept finding myself looking over and counting the seconds to get out of it. I had to figure out who this guy was my friend was talking to."
The two ran into each other a few more times that year, but it wasn't until December that Norfleet took the initiative and began flirting with Hemmingway and that flirting led to their aforementioned marriage. Thus, if you learn anything from their story, it's that DMs can go a long way in terms of gay love.
Tessa Thompson and Janelle Mone
Though going their separate ways in 2020, the actress and singer were a beautiful pair of sapphics, particularly in Monae's music video, "Make Me Feel", that featured the pair dancing provocatively in a club.
Prior to their romance, the two came out separately in 2018, with Thompson revealing that she was bisexual, via Instagram, during June's Pride Month "I can take things for granted because of my family—it's so free and you can be anything that you want to be. I'm attracted to men and also to women. If I bring a woman home, [or] a man, we don't even have to have the discussion."
While Monae came out in a more tight-lipped fashion, simply revealing that she's attracted to more than one gender in an interview with Rolling Stone.
Kehlani and 070 Shake
Songwriter and songstress, Kehlani, has identified as queer for years, but last year, in 2021, she finally felt comfortable enough to come out as a lesbian. Since then, she has often been seen in a number of intimate positions with the rapper, 070 Shake. 
Young M.A and Kaylah Gooden
Despite the years of constantly being called a lesbian, the rapper, in 2019 interview with Jason Lee and the rest of Hollywood Unlocked, officially came out to explain her feelings on the lesbian label. When Lee brought up the topic of her identity, the rapper said, "Nah bro, I don't like that. At first, I thought it was like — cause everybody said it but now I'm like – I'm just Young M.A, man." Her choice of words proved that while labels can be helpful for some, they are not helpful for all.
Today, M.A and digital creator and model, Kaylah Gooden, are together and proudly show off their love on their respective social media accounts.
Niecy Nash and Jessica Betts
Like Willow and Tyler Cole, Niecy Nash is a bit of an outlier amongst younger individuals in the community, since the tv host has only just came out as liking both men and women, after decades of dating men. She was in the midst of her divorce with her then-husband, Jay Tucker, when she realized that her feelings ran deeper for her friend, Jessica Betts.
In an interview with People, she said that "I loved her before I was in love with her because she is such a special human being. But we began to see each other in a way we never had before. Sometimes you get so broken by love, you run from it. But I've learned that you should always hold space for magic because it can happen at any time." Nash's story, though somewhat unique, exemplifies the importance to live in your truth no matter what sacrifices you may have to make.
Antonio Douthit-Boyd and Kirven Douthit-Boyd
These two gifted dancers, Antonio Douthit-Boyd and Kirven Douthit-Boyd, aptly met, while working at the Alvin Ailey Dance Company, and they later tied the knot in 2013. Their love shows that sometimes you can mix business with pleasure.  
Mj Rodriguez and Stephen
MJ Rodriguez needs to be on this list for a number of reasons, one of which is to demonstrate that despite the growing trend of black, trans women being killed, not all women of this sort are a statistic. While, at the same time, she deserves to be recognized simply for the true, unyielding love she and her boyfriend have for each other.
In a Valentine's Day Instagram post, the actress declared, "I feel like I can be my truest self when I am around you. You have shown me what love truly looks like when it's balanced and easy. I'm so proud to call you my Valentine but most importantly my boyfriend. You are always rooting me on, you always make sure my physical, my spiritual and my mental state is [OK]. I'm so appreciative of you. #happyvalentinesday I LOVE YOU Stephen."