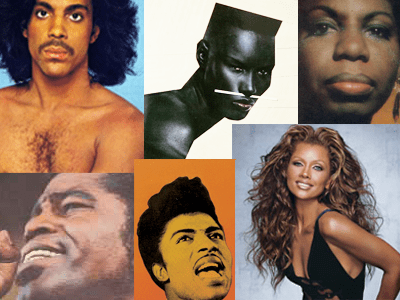 Black artists in the music industry have almost always been an anomaly. Most have created and been able to cross many genresn the muisic music industry, but have been credited for few. Then there are those other artists who stood out because they were way ahead of their time when it came to their presence in the music industry, and as influential artists.
Here is our list of 10 artists, who not only paved the way for other artists like them but who made themselves icons in the process of being very different from most singers of any color. Most of their success was imitated but never duplicated.
From scandals that could've destroyed their careers completely to cross-dressing and owning their own masters, at a time when it was impossible in the industry.
Without question, the artist on this list were told probably more times than they can recall that they were going against the grain and following the pack but instead, they were headstrong in creating and blazing their own successful trails in the process etching their names and music into entertainment history. Here is our list.
Prince
The late singer, producer, arranger, writer, composer, and multi-instrumentalist Prince broke all the rules. He was a genius without question, and I met him once and stood 5 feet away from him and I was shocked at how small he was. Smaller than most women I know.
What was incredibly interesting about Prince is that everything that you would think would have turned women off about him, makeup, permed hair, pumps, and frilly blouses … made him even MORE attractive to them. His connection to women, including his extremely small frame, is proof that great music can change anybody's mind and perception about the artist and that it really is ALL about the music, at least for the fans.
He wrote some of the most amazing songs not just for himself but for many artists, and I recently saw a segment where he admitted that he never permitted Sinead O'Connor to re-record "Nothing Compares to You" which became her signature song but was previously and written by him.
Prince stated that his and her label (Warner Brothers) had an open rule that artists on the roster could re-create each other's music without a problem OR permission.
He was bothered by the fact that people thought that was originally her song. Prince was too talented for his own good and suffered near the end of his life, living alone in a huge home in Minneapolis and entertaining himself in his massive studio and with unfinished games of solitaire which were found at the scene of his death in the house where he collapsed near the elevator on April 21, 2015.
Prince broke through the glass ceiling of the severe discrimination from within the black community for men who were assumed to be gay during his tenure, mostly because he always kept a stunning woman on his arm and because women loved him. It was OK for a Black man to admit he was a fan of Prince and his music without getting a side-eye, which is quite an anomaly.
Grace Jones
Jamaican-born and Syracuse, New York native Grace Jones is the epitome of what many black men were/are not looking for in a mate as she described during an interview with Jet magazine many years ago. "Black men are looking for the white conception of beauty, fair skin, and long flowing hair; my hair is not long and flowing."
She responded with this answer when asked why she dated white men. I cannot tell you how many straight black men I've come across who thought Jones was "ugly," and how man gay people and females who thoght she was beautiful but she is iconic to the gay and even black female community. Jones embraced her dark skin, short hair, and undeniable presence and used it to become a star and it worked.
She appeared outrageously masculine, and her powerful striking ethnic features which were at the same time artistic prevented her from being a superstar model when it came to the "white" perception of beauty. Still, her bravado, fearlessness, and potential were evident in her quest to become an international icon as a performer, which she has accomplished.
Black NOR white people were ready for her and she was not going to have the advantage Prince had even if she dated the best looking white guys she could win, and all she has was her art and she is finally getting her full accolades decades later. Grace became mainstream during her appearance in Boomerang in the early 90s with her various scenes as a spoiled model who is as her name suggests "Strange" (prounounced "Stronjay")
Eartha Kitt
Eartha Kitt had an incredibly tragic childhood where her parents abandoned her and forced to live in a torture chamber of sexual and physical abuse with distant relatives. Somehow she managed to survive the harsh ordeal, but it haunted her for a lifetime.
She was very eclectic, and she owned it but she never felt that she belonged. Her singing and her style were not like any other black female singer, but she did not deviate from it to meet the status quo. She certainly could have been considered the Grace Jones of the 60s. Her version of "Santa Baby" is a classic that no matter how many other artists re-recorded it, they will never be able to enhance the magic she gave to that song.
Also, in an age where racism was still relevant (that would include today when you think about it), she played Catwoman and the Batman TV series in the 60s and she and nailedn it. Julie Numar didn't even come close to the magic Eartha brought to that role, and she is forever in the annals of history for that too.
Eartha's final big screen appearance was in the early 90s Eddie Murphy classic movie Boomerang where she played a retired model for a beauty brand and was replaced by Strange, (Grace Jones). Eartha was such an icon it's almost as if she planned her exit from life's stage when she left the earth on Christmas day in 2008.
Nina Simone
Nina Simone is another tragic story. A childhood filled with racism and not being able to play with the other kids to nurture her talents by playing the piano kept her disconnected from the world at a young age. Her goal was a be a concert pianist who played at Carnegie Hall, but she never reached that goal because of racism in the industry, and it devastated her.
She substituted it for singing and being an integral part of the Civil Rights movement which was almost extreme to her orignial goal.
She went out of her way to represent the black community, and black radio stations refused to play her songs for fear of rebuttal from racists in their respective cities. But instead of just sending her music back to the label, they would send her records back broken and smashed, as if they had disdain for her which made those black stations pussies.
Simone was in an abusive relationship with a former NY cop Andy Stroud who left the force to manage her. He would also often beat the crap out ofher until she was swollen and bloody but she still manged to have a daughter with him.
Toward the end of her life, she dealt with severe mental illness at a time when the industry threw "crazy" people away and she was disconnected from the industry that she once loved so much. She was ahead of her time because she took a chance and did the kind of music no Motown artist would dare do and in the end, it cost her a successful career as an artist. She died on April 21, 2003.
Little Richard
Another artist who was eons ahead his time was Little Richard. He was certainly the Prince of the 50s, and he was very successful and was able to get away with not hiding his sexualty but using it to create historic music concepts and adaptatations that few other artsts have been able to match.
Sadly, he never got over the fact that his father rejected him and he made it clear that Richard was an embarrassment to the family. Richard's best friend killed his father at the club he owned one night and Richard almost never forgave his friend because his father never got a chance to really see Richard's success, which Richard hoped would have changed his father's mind about him.
He died feeling tremendous guilt about his queerness on, May 9, 2020 turning back to God and the Bible. Richard was at least ten shades darker than he usually appeared because he wore extreme heavily caked makeup on state and to change his complexion.
Sylvester
It would seem that Los Angeles born singer Sylvestor never expected to be a successful singer but it happened. He was voted one of our best falsetto voices in another Black Top 10s, and for those who knew him in the industry, he was a very nice man. Luther Vandross, according to some, would call Sylvester to ask him how he navigated the industry with so much homophobia.
Sylvester was the giving kind, and he had several big Disco hits in the 70s including "You Make Me Feel (Mighty Real)," "Dance (Disco Heat)" and more, and even in the 80s with "Someone Like You." Sylvester managed to have a successful career that was cut short when he died at the age of 41 in December 1988
Dionne Warwick
Few people have said this, but Dionne was the Whitney of the 60s. The epitome of class and finesse sang to the top of the charts for woman-owned label Sceptor records which was owned by Florence Greenberg. Warwick worked with the iconic Burt Bacharach and Hal David.
Warwick has a well deserved tribute bio doc airing as you read this on CNN about her life and legacy. I've talked to her once and she is very nice and laid back and classy.
Warwick had to have gone thought it from her contemporaries who thougth she thought she was white becuase of her connections in the industry that they were prevented from having but she never talks about it.
Dionne was the first couragous artist to step up and speak out to her upper esholon connetions including President Reagan about the burgening AIDS crisis at the time. This is another reason she was ahead of her time.
She could have been selfish and all about herself but she was a HUGE giver during her tenure in the industry. In addition, few singers can claim success in 3 different decades like Dionne can. The 60s, 70s and 80s. She was ready to retire in the late 70s when Arista records offered her a deal kicking her into the stratosphrere of hit records.
Her run on Solid Gold in teh early 80s proved she could hang with the best of em and sing ANYBODY's song witout a problem. The show was a monster hit.
James Brown
James Brown was another one who came from a very dark childhood. Forced to live and clean up in a whorehouse behind the whores as a child, he would entertain the whores and the johns with his musical ability. As an adult, he had massive success, but what he is rarely known for is his business acumen which put him way ahead of his time.
Brown was not about signing with major labels unless he got to keep all or most of his publishing. He even had his own labels during his tenure in the industry, like People records, where he brought on more talented artists like Lynn Collins and his band members on their own projects like Maceo Parker etc.
Vanessa Williams
What happened to Vanessa Willams as a young woman in her early 20s would be taken many others out. She was the FIRST Black Miss America which drew ire from racists and opportunists.
In 1982 Williams was a receptionist at Tom Chiapel agency in upstate NY, during that time she took pictures with another woman, in sexually suggestive positions, privately. A representative at Chiapel saw an opportunity to make money when Willams won the Miss America pageant and sold the pictures to the soft porn magazine Penthouse.
It was their biggest issue to date, and destroyed a young Vanessa. The Miss America pageant reps asked for their crown back a month before Williams's reign was complete. In a heartbreaking news conference, she rescinded the crown and went on with her life scarred by the experience initally then ready to move on. She decided to focus on her singing.
When no record label would take a chance on her, Ed Eckstien finally did because she was hanging around his office all the time even after he turned her down. He was almost laughed out of the building when he suggested they sign her in a company meeting but they finally took a change, and the rest is history.
The pageant did an on-air apology to Williams recently and she accepted, but they only did it because of her success. It would have been hilarious if she had told them to stick that crown up their asses and walked off stage, but she took the high road instead.