Deion Sanders (aka "Coach Prime") is the hot topic all over the news right now for his exit from HBCU Jackson State University to be the head coach for Colorado Buffaloes at the University of Colorado.
Without question, HBCUs need help, and former athletes of Sanders's magnitude stepping up to the plate and bringing much-needed attention and success to Jackson State is unprecedented.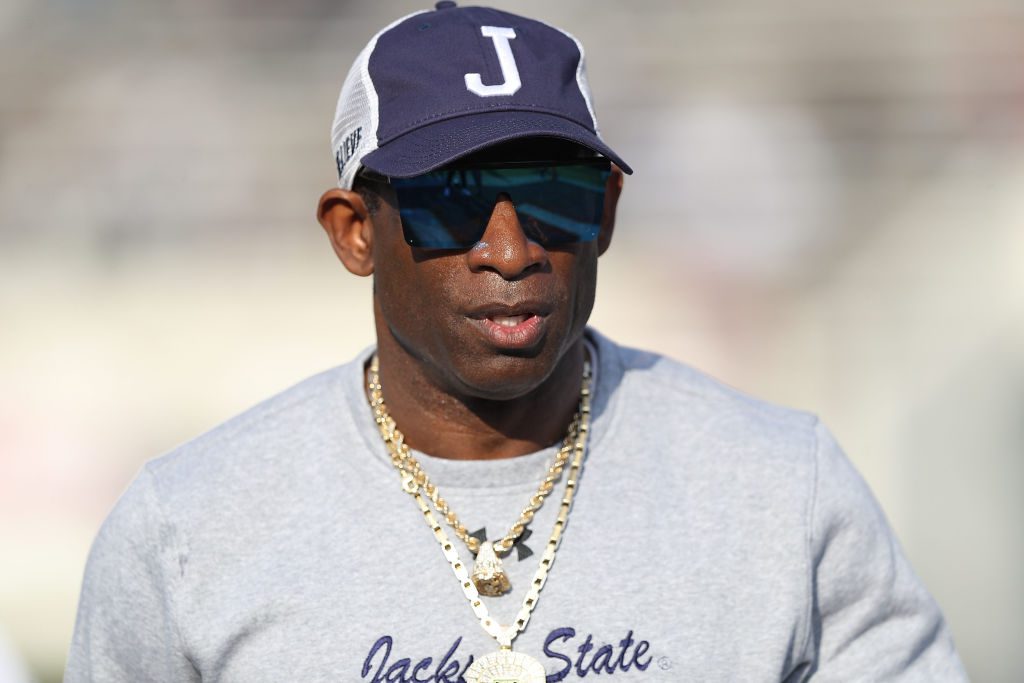 In the process, he took an immense salary cut and even donated his own money to help the team. Sanders is 55 years old. His salary of $500,000 was outrageously low for someone of his legacy, but his intentions to help the program is beyond commendable.
The Jackson State Tigers, under his tutelage, have done extremely well. Sanders made a valid point that he wanted to change the perspective of HBCU football. This was his first college coaching gig, and he was highly revered at Jackson State.
Sanders had a new locker room built for the team, and he reached out to Walmart to build a new practice field for the team. It wasn't just Jackson State that Sanders brought attention to; he brought attention to Jackson, Mississippi, and the water crisis.
In addition, while he was there, he had to have life-threatening blood clots removed and had to have two of his toes amputated and a chunk of his leg removed. His health was in crisis, but he remained steadfast in his mission. Now, he admits he has had his chance, but now he wants to give that chance to others to step up to the plate and do what he has done.
Sanders admitted he would entertain the possibility of another coaching gig, and that has set many people off thinking that Sanders should have had a longer commitment to JSU. Looking at this from a business perspective, here are a few points we want to make about Sander's decision.
Have a Goal
Sanders had a goal, not only to win but to dominate. Instead of calling his wealthy friends to help Jackson State improve its facilities, he used his star power to approach major brands and get them to participate, giving much-needed national attention and support to JSU.
Give Back
Sanders could have simply endorsed Jackson State and touted it as a school his son Sheduer attended and played football for, but he took a massive pay cut, contributed his own money, and contributed his time and made a lasting impression on the school, the students, the city, the state, HBCUs, and college football.
Strike While the Iron is Hot
Like the rest of us, Sanders is not getting any younger. He would have been a damn fool to ride out that low salary that is not commensurate with his experience and legacy for more than 3 years. As he stated so eloquently, you are either elevated or terminated as a coach and trading in a $500,000 a year salary for $5 million is not just commendable, it's smart. Would you rather be fired from a job that pays $500,000 or $5 Million?
Do what YOU Feel is Best
College sports fans can have their opinions all day as they see the benefit of what Sanders has brought to the table for JSU but at the end of the day. It's his decision to make a move and not everybody else's. Our opinion is based on emotion instead of good business.
In the Black community, we have the "dry cleaner" concept of doing business. We think we are supposed to remain dedicated and committed to one thing until we die, but that's something a damn fool would do, and many of us have done.
There are going to be ups and downs, and at some point, you are going to get tired or age out of a situation. In addition, you don't garner wealth by being stagnant. You leave how you came in, and if you came in with a low salary, you will leave the same way.
Know Your Value
Sanders understands and knows his value, and you can't be mad at him for that. He voluntarily diminished his value for three years to give his experience and expertise to offer a helping hand to an HBCU. Three years is a good amount of time to make an impact and give it all that you have, then move to greener pastures.
Know that Time is of the Essence
As Sanders has stated, you either get elevated or terminated. For his first college coaching job, he would have been a fool to wait any longer. He did what he needed to do in an allotted amount of time, and then he needed to make a move. How many of us, especially in Black business, have remained stagnant and not grown to the point of becoming irrelevant? If you are going to become irrelevant, you might as well be rich in the process.
Leave a Legacy
Who can deny the legacy that Sanders has with JSU in just three years? The list is too long to mention, but in summary, he not only brought national recognition to Jackson State University, but he also brought recognition to HBCUs in general. At this point, he has left the door open and the opportunity for other former black athletes to give back and become coaches at HBCUs.
Don's Ask for Permission
We are free to make our own decisions and commitments; we do not need the permission or approval of others.
Be Unapologetic
When we express doubt and ask for the opinions of others, we exude a level of insecurity and indecisiveness. Know what you want, how you want to do it, and when you want to leave, then do it.
Deion Sanders telling the CU Buffs football team that he's bringing his own luggage, and that they better hit the portal. This is crazy 🤯 pic.twitter.com/004LUKiTr2

— College Football Transfer Portal (@CollegeFBPortal) December 4, 2022